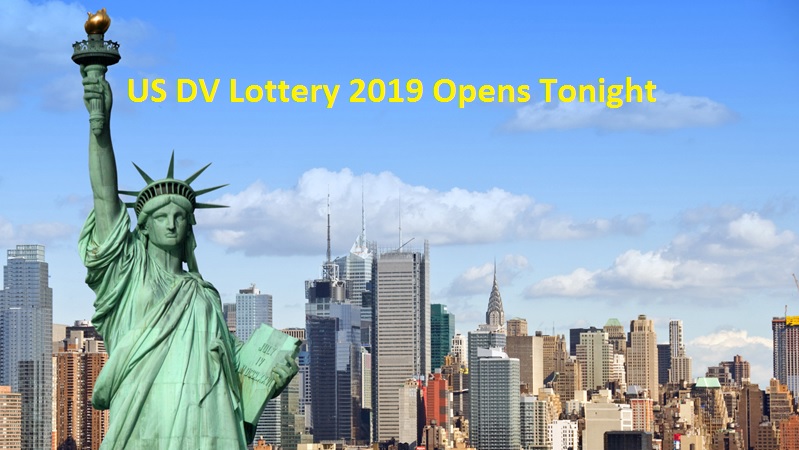 US DV Lottery 2019 registration opens tonight. According to US embassy statement the US DV Lottery 2019 opens at 9:45 pm tonight. There were many opinions regarding US DV Lottery 2019. So many people use to say US DV Lottery 2019 will not open. Similarly some says that Trump will close US DV Lottery 2019. But finally US DV Lottery 2019 is now open.

US DV Lottery 2019 Application Period
The dv lottery 2019 application period is from October 3 to November 7 2017. The US embassy suggests all the interested candidates to fill the application form early. It is because at the last moment there will be huge rush in electronic application. So this year also applicants have to fill the online electronic form. This is free of cost. Therefore you do not have to pay for the application form. This year the email address of the applicant is compulsory to provide in the application. However you will not get the result via your email address.
Here are the steps to fill online US dv lottery 2019 application form. Just follow the given steps to complete your online dv lottery form.
Go to the official site of dv lottery
The official site for online dv lottery application is dvlottery.state.gov
Here you will find the application form
Fill the application form properly
Give the name and date of birth according to your academic certificate or passport or citizenship certificate
Provide the appropriate size digital photograph
Once recheck the filled form before submitting
We have separate article regarding the correct photo size of dv lottery. So if you are not clear about it please check this article in gbsnot.com.
You can check the result of dv lottery on dvlottery.state.gov on or after May 1 2018. Here you have to enter your conformation number. So keep your conformation number which you get after submitting your digital dv lottery application form.
US Embassy Kathmandu Important Notice
The US embassy Kathmandu stressed the fact that simply selecting as dv winner or even getting second letter does not guarantee a US Visa. So you must fulfill the criteria given by the state government to get the visa. Consular officer will determine whether you meet the qualification and eligible for the dv under immigration law. You can get further information about dv lottery from the official site of US embassy Kathmandu.