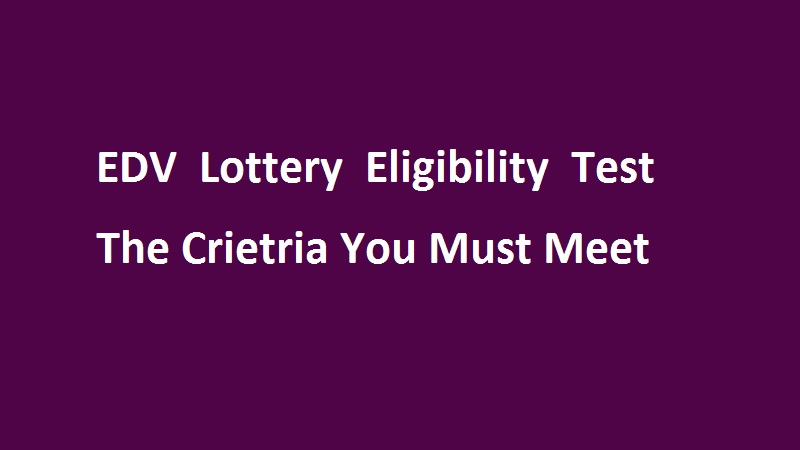 EDV application opens from October every year. So here we give EDV Lottery Eligibility Test details.
It will be wise to take EDV Lottery Eligibility Test. It is because non eligible person's application will directly out of selection procedure.
So before applying for dv lottery take EDV Lottery Eligibility Test. But this EDV Lottery Eligibility Test is not so hard.
EDV Lottery Eligibility Test
DV lottery eligibility test is based on two categories, Firstly your qualification and secondly your nationality.
There are few countries in the world which are not eligible for the application of dv lottery. We have listed those non eligible countries in our previous article as well.
Here we have the list of disqualified forms together with the EDV result.

Vietnam Bangladesh Brazil China (mainland only) Canada Colombia El Salvador Dominican Republic Haiti India Philippines Nigeria Jamaica South Korea Mexico Pakistan Peru United Kingdom (except Northern Ireland)
The next important thing for the dv lottery is academic qualification. So for the application of dv lottery you must have completed the high school study.
Here the high school study means you must have completed grade 12. Like in case of Nepal you need plus two pass.
Well you need minimum 12 years school study. Hence without this qualification you can not apply for dv lottery.
Why you are Not Able to Get Second Letter?
Like if someone applies for dv lottery without having the stated qualification then in the second round selection such applicant will be disqualified.
You might have heard that so many people getting first letter are not able to receive second letter.
It might be the reason that their academic qualification in not according to the demand of state government.
In so many cases the well qualified persons are also not getting second letter though they have selected from first round.
Therefore all the citizens of the countries beside those countries mention above are eligible for the dv lottery application.
Hence if you meet the above criteria academic qualification and you are from the eligible nation then you can apply for the dv lottery.