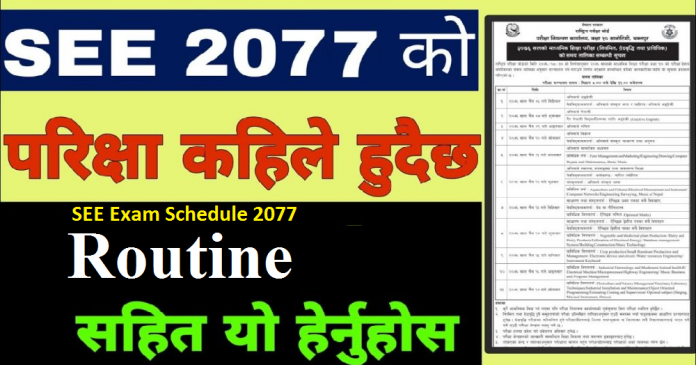 SEE Exam Schedule 2077 is going to publish soon. Hence the students can print the SEE exam routine from this page. Check the online exam routine from this link.
It is the list of dv winners from Nepal. Hence the dv lottery applicants can check the result from the above link. Due to some technical reason we are unable to past the list in this page. Hence we kindly suggest to get the winners list from the above link.
SEE Exam 2078 Registration form Fill up Notice
Here is the official notice to fill the SEE Exam 2078 form. The students currently studying in class 9 has to fill this form.
SEE Exam 2078 Form Notice
Check the detail notice given below.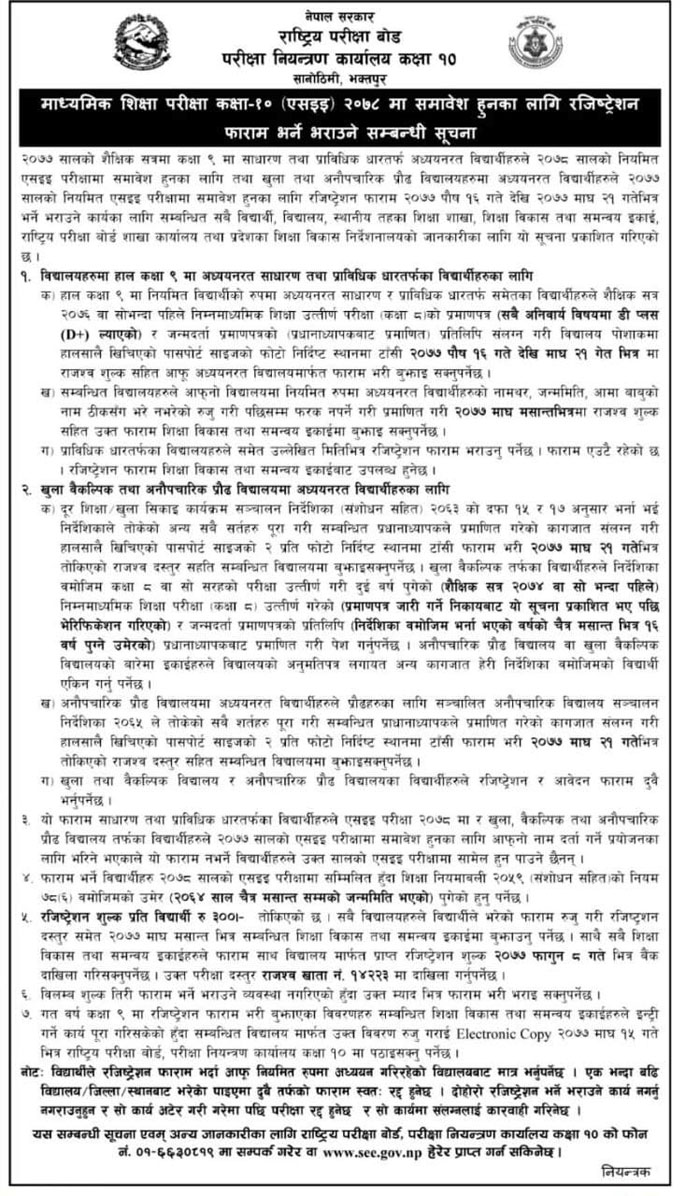 SEE Exam Schedule 2077
The national examination board Nepal has published the secondary education examination time table. According to the office of the controller of examination the SEE 2077 exam begins from the third week of Jestha.
Here is SEE exam routine given by the national examination board Nepal. Students can download and print the exam routine from this page. In addition to the exam routine we have model questions for the SEE students. So if you have any questions about the secondary education exam leave your queries in the comment box below.
SEE Model Questions 2077
We have all subjects model question for SEE students. So you can use these questions for your exam preparation. If you have any question about the SEE exam contact us. Our subject experts will solve your problem with 24 hours of working days.
Opt Math Model Questions
SEE exam question grid for optional mathematics will be same as previous year. There was no board exam last year. Hence the optional mathematics question will be new for this year. However according to the examination board this year SEE exam will be from full text with full marks 100.
SEE Exam Mathematics Model Question
Mathematics is 100 full marks paper. All the students must take this paper. It is compulsory subject for all the students. Hence this model question will be helpful for all the SEE students. During the SEE exam preparation if you have any problem you can contact our subject experts.
SEE Model Question for Nepali
Due to some rules of this page we are not able to post the model question of Nepali over here. But we have the jpeg file of Nepali model questions attached at the end of this article.
Finally we would like to wish very best of luck to all the SEE 2077 students for their upcoming board exam.