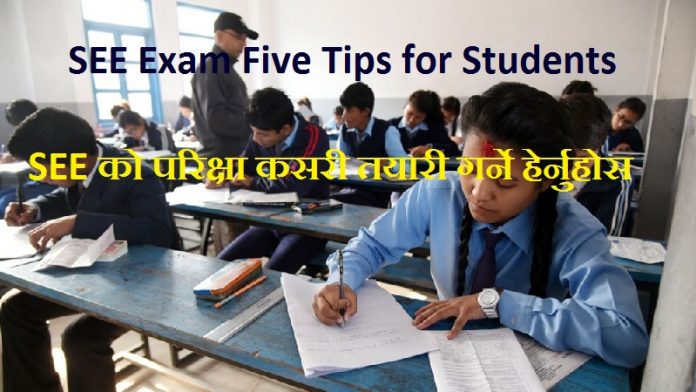 Well here we have SEE Exam Five Tips for Students. We hope these SEE Exam Five Tips will help the students for exam preparation.
SEE Exam Five Tips for Students
The most important thing for the students is the time management. Hence the students must have own time table for exam preparation.
We have 2075 SEE exam routine in the above link.

Time Management
Such time table helps to provide uniform effort for all subjects. Otherwise some subject may not get enough time for the exam preparation
Regular Study throughout the Year
Sometime students are found panic during the exam. It is because of lack of self-confidence. So to build the self-confidence you need regular practice.
Therefore instead of studying longer hour during the exam make planning at the beginning of the year.
Study for Knowledge than Memory
So whatever you study it must be well understood. Sometime students try to memorize the lesson without understanding.
Such activity will not be long lasting. Similarly you cannot remember it for long time period.
Set a Goal in Your Life
You must have certain goal in your life. Student without goal is like a ship without compass. Such ship has no proper destination to reach. Hence set a goal and work accordingly in your life.
Complete the Exam Paper
Students must not leave any questions unanswered. Basically talking about the SEE Exam Five Tips for Students, try to answer all the questions.
If you write whatever you know then there is chance to get at least certain marks for that question.
Hence it is wise to complete all the compulsory questions in your secondary education exam.
Best Time to Relax
It is said that the best time to relax is when there is no time to relax. You know if you have enough leisure time you do not enjoy watching television.
But if you watch the same television during your exam time escaping from studying it is more interesting.
Hence we suggest all the SEE students for good preparation.
At time moment I want to suggest all the parents to go in their flash back of SLC life. How it was just imagine it.
Hence during your tight schedule try to find appropriate time for relax.
At last but not the least if you have any problem during your SEE exam preparation contact us our subject experts group is ready to help you in this regard.