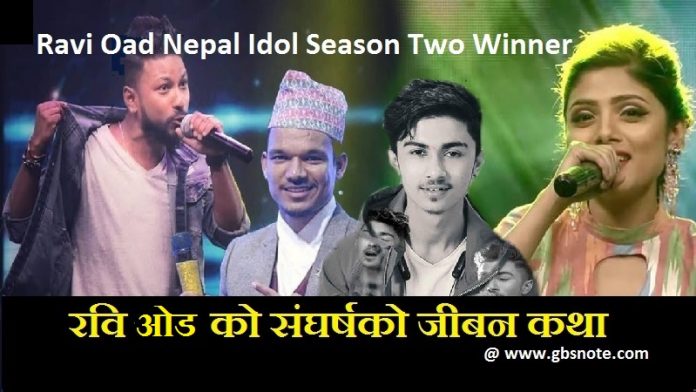 Ravi Oad Nepal Idol Season Two Winner got Honda car. At the same time Ravi oad got cash prize of twenty two lakh.
Ravi Oad Nepal Idol Season Two Winner
We here we discuss about the biography of Ravi Oad. This time many people are eager to know more about Ravi oad.
Ravi oad is actually from Achham of far western region. In course of time his parents migrated to Kanchanpur.
Ravi oad has missed his mother in his early childhood. Later on his father got second marriage.
SEE Also: Japan Online Working Visa Process
So right now he is living with step mother and four younger brother and sisters.
The economic condition of Ravi oad is not good. So whatever his is now is with the support of his fan and followers and the family members.
According to Ravi Oad Nepal Idol made him so popular among the Nepalese people.
At this moment his name and fame is in the top level. Many media are approaching to him for the interview.
Ravi Oad's Father Works in India
Ravi's father works in India. He has been working there for couple of decades. According to Ravi the salary of his father is not enough to support five member families.
Struggle of Ravi in Kathmandu
Ravi did struggle in Kathmandu. Initially he works in the Dohor Restaurant for his livelihood. .
Ravi never dreamed to be the winner of Nepal Idol Season two. But he himself has a kind of confidence in his talent.
Many interviews of Ravi Oad tell that he learnt many things from this reality show. Ravi tells that now he will be spending the whole life in music industry.
Nepal Idol a good Platform for Talented Youth
Few years back there were no such platforms the hidden talents in the society.
But now days due to such platform like Nepal Idol and many more people are getting opportunity to show their hidden talents.
What is the Dream of Ravi?
Now the only dream of Ravi is to keep his father happily. Perhaps he will call his father back to Nepal for the rest of his life.
Finally GbsNote entire family would like to congratulate Ravi Oad and whole family for such grand success.
Wish you all the best Ravi for your upcoming life. May god bless you in every step of your life.
Congratulation Ravi Oad Nepal Idol Season Two Winner