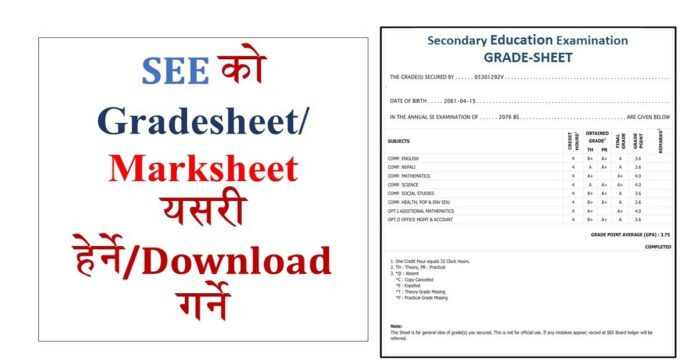 The office of the controller of examination publishes SEE Exam 2078 Nepal Results. Students can check online SEE exam Result from here.
There are three main ways to check SEE Exam 2078 Nepal Results. Hence students can choose one of them. Well, let us now discuss them one by one.
There are different websites for SEE online result. We will provide the list of websites at the end of this article. But if you do not have the access in the internet you can use sms method to check online result.
List of Webs for Online SEE Exam Result are as follow.
SEE exam result at see.ntc.net.np
Online SEE exam results visa soce.gov.np
SEE result with Grade Sheet at neb.gov.np
The Online result at see.gov.np
You can send sms to get the online SEE exam results.
SEE Exam 2078 Nepal Results via SMS
Go to the message box in your mobile phone.
Type SEE give space and type your exam symbol number with alphabet.
Now send it to 1600.
You get the result in your message box.
SEE Online Result by IVR Method
IVR is the next method to get SEE online Result. If you are using PSTN or CDMA phone then it can be the best alternative. Here are the steps for SEE Result by IVR method.
Dial 1600 from land line or CDMA phone set.
Now follow the instructions give over there
By this way you can get the result by IVR method.
New Letter Grading System
National examination board has introduced new grading system. This new letter grading system will be implemented by this year. SEE 2078 and SLC 2079 students will get their result based on this new grading system.
There are so many changes in this new letter grading system. We have discussed about it in our previous articles. Hence we are not going to repeat the same thing over here. It is just waste of time and resources.
2079 SEE Exam Results
SEE exam 2079 results come in the year 2080. This year there were more than five lakhs regular students. Similarly there were group of retake students as well. NEB has published the result today itself.
SLC Result 2078
The final exam at the end of class 12 is called SLC. In the past the final exam at the end of class 10 was SLC. As the change in the school level category 9 to 12 is the secondary level. At the same time the exam at the end of class 12 is school leaving certificate or SLC.
University Level Study
What after grade 12? It is very serious question in the mind of students and parents. There are so many options for the students after class 12. Hence it is right time to find the correct faculty for the study. At this moment if you are not able to find the correct faculty then it will be blunder.
Class 11 Entrance Questions
Soon after the SEE exam results students rush for the class 11 entrance exams. They have to face entrance exam to join grade 11 in some renowned schools and colleges. Hence to provide them some idea we have some model questions for this exam.
How to get Online Mark Sheet?
Getting SEE result and getting result with grade sheet are two different things. You can get SEE online result via sms and IVR method. Similarly to get online result with grade sheet you need to visit websites.
Just follow the above mentioned steps to get online result with mark sheet.
Top Plus 2 Colleges in Nepal
There are so many schools and colleges for class 11 study. Basically you need to choose according to your demand. If you are thinking for science search for best science schools and colleges and so on. On the top of this you have to look for the facility available over there. Mainly check the size of library and available resource books.
Teaching is somehow similar everywhere. Hence look for the institution where you get better academic environment.
Finally if you have any question about SEE results contact us. Our team is ready to provide necessary help and support.
Best of luck to you all for your upcoming SEE exam 2078 result.