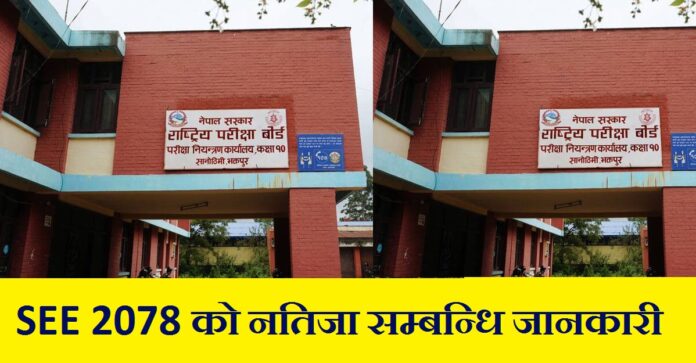 Office of the controller of examination publishes the Online SEE Result 2078. 2022 SEE online result is public so students can get result from here.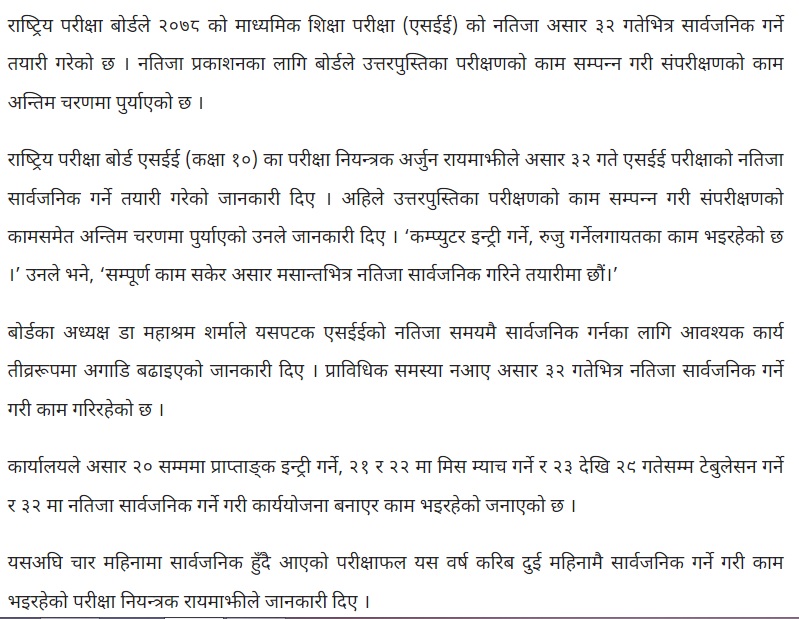 Online SEE Result 2078
Here we give easy steps to get SEE exam online result via different methods. Generally there are three methods for online SEE exam results. Let us discuss them one by one. Well the first and common method for secondary education exam result is web.
Follow these steps to get SEE result in websites. There are many websites providing SEE exam online results with grade sheet.
Nepal Telecom SEE web portal is see.ntc.net.np
Just logging in the above page you can get the online result of class ten board exam SEE results.
In the above web page you will find the space to insert exam symbol number and date of birth. Supply all the details correctly. Check the details once before submitting it. Finally submit the details to get SEE online result with marks sheet.
NEB Nepal web page is neb.gov.np
Students of SEE 2078 can find their online result with grade sheet from the above web page. It is the official page of national examination board Nepal. When you reach to this page there will find a button written SEE Result 2078. Just tap on this button and follow the steps given there.
SEE Exam Result at soce.gov.np
It is the official website of the office of the controller of examination Sano Thimi Bhaktapur. Here students can get the online result with grade sheet. The process is similar to the other websites. Hence it is very easy and cheap to get the result from websites.
List of Websites for SEE Exam Result
Beside the above web portals there will be other private sector blogs for the online SEE exam result. It is yet to come. As soon as NEB publishes the list it will be available in this page.
SEE Result via SMS
The next method for SEE examination result is sms method. If you do not have smart phone and you are away from the internet range you can use this method. Here we give steps to check online SEE exam result using SMS.
Go to the message box in your mobile phone.
Type SEE give space and type the exam roll number with alphabet. Do not separate the alphabet from the number.
Finally send your sms at 1600
If you face any problem while getting the SEE exam results with grade sheet contact us. Our team member will reach you within one working day. We are providing this service at free of cost.
How to Check SEE result by IVR Method?
The third option to get SEE online result is IVR method. In this method you can dial 1600 from PSTN or CDMA phone set. Now follow the instruction given over there. Do as mention in the automated voice system.
Once you record the voice message you will get reply from the automated machine attached in the IVR system.
Finally we would like to express best wishes to the entire SEE 2078 student waiting for the result.
Best Schools for Grade 11 Study
It is the list of best plus two colleges in Nepal. It is very difficult to choose the school or college for class 11 study. Basically science students get in dilemma in this matter. Well, let us discuss on each school and college one by one.
Class 11 Entrance Questions
It is the collection of class 11 entrance exam questions. Students can use this collection for the upcoming Entrance exam. At this moment we would like to express best wishes for all 2078 SEE students.
Gandaki Boarding School
It is in Pokhara. Gandaki Boarding School shortly known as GBS is in the out skirt of Pokhara. It lies in Pokhara 16 Lamachaur. It has capacity of 160 students in science faculty. The school is the first 10+2 college in Nepal.
GBS is a national school. It has latest facility for the students in the class. Like each class room is IT friendly. There is already fixed multimedia projectors in each class. The school has an area of 270 ropani. There is one standard size swimming pool in GBS. If you want to learn more about the school you can visit gbs.edu.np.