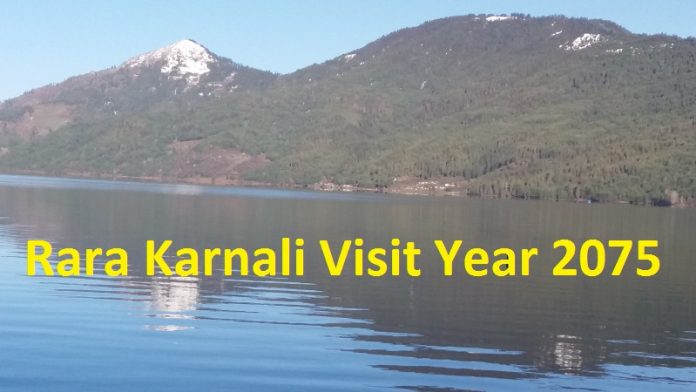 Prime Minister KP Sharma Oli inaugurated Rara Karnali Visit Year 2075. This Rara Karnali Visit Year 2075 is expecting 500000 tourists in Karnali region.
How to Reach Rara Lake from Kathmandu?
The beauty of Rara Lake cannot be expressed in words. So let's hope that this Rara Karnali Visit Year 2075 will promote the economy of the Karnali province in the days to come.
There are many options to reach Rara Lake. But I personally suggest you to take jeep either personal or the rented one. Journey of Rara Lake begins from Surkhet if you are use motor roads.
Otherwise you can take flight from Nepaljung to Talcha airport of Mugu district. But in my opinion it is better to go by motor road so that you can really understand the life of the people in Karnali region.
Nagma to Talcha Muddy Road
The journey in the motors for Rara Lake begins for Surkhet to Nagma of Kalikot district. This portion is in Karnali highway though the road is narrow. Once this highway was black topped however it is not in good condition now.
The muddy road from Nagma to Talcha is about 94 kilometers. It is very difficult to move vehicles in the road if it rains. Anyway the journey is very adventurous in this section.
Talcha to Rara Lake
You can walk this distance via jungle of the Rara national park. It is just one and half hour light walk to reach the lake. On the other hand you can use jeep to reach the lake from Talcha airport. But I suggest you for hiking to reach the lake.
Public Bus Service to Gamgadi of Mugu District
There is night bus service from Kathmandu to Gamgadi headquarter of Mugu district. It takes nearly 40 hours to reach Talcha airport from Kathmandu. The journey of the public bus is not good for the tourist and visitors. So never use such public buses to go to Rara Lake.
Rara Karnali Visit Year 2075
Finally I hope that this Rara Karnali Visit Year 2075 will certainly help to promote tourist industry in Mugu and whole Karnali province.
At last but not the least I would like to draw the attention of the government to add more flights to Talcha Nepaljung route for the domestic and international tourists.