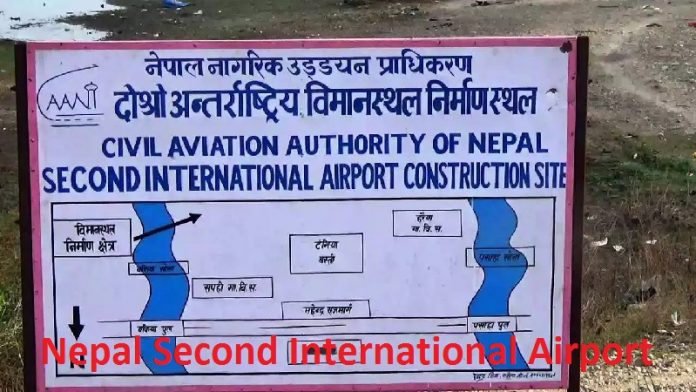 Nepal Second International Airport is purposed in Nijgadh Bara. The only international airport of Nepal Tribhuvan International airport is being congested day by day.
Due to lack of Nepal Second International Airport in several cases the planes have to divert neighboring country India.
Nepal Second International Airport
Airplanes have to wait several minutes in the sky to get turn for landing in the sky. At the same time the growth of passenger in the Tribhuvan International Airport TIA is sharp.
So in the existing growth rate TIA cannot manage the flow of passenger after 2021. It is expected that by that time there will be flow of 10 million passengers per year.
Therefore the need of Nepal Second International Airport is urgent.
Purposed Second International Airport Nijgadh
The feasibility study of Second International Airport Nijgadh is already over. However the construction of the airport has not started yet.
Though the land acquisition, compensation, impact study and re-settlement is ongoing.
The capital expenditure of the country is very low. Hardly 28 percent capital expenditure the government can do in the last seven months of this fiscal year.
Therefore the infrastructure of the country is in underdeveloped condition. So in this connection the situation of the existing airports is also same.
Public Private Partnership in the Mega Construction
The private sector has huge amount of capital. So if the government can attract this capital in the mega construction of the country like international then there will not be scarcity of capital for the construction.
If we look at the international scenario there are several countries implementing the PPP (Public Private Partnership) model for the development of the nations.
Basically there are several countries in the world who has already constructed the international airport in this PPP model.
Hence in the context of Nepal also if the government can call and make partnership with the private sector then the development of the nation will be little rapid in my opinion.
It is only my view about the concern of the Nepal Second international Airport. So I kindly would like to suggest all the reader to leave their comment in the comment box below after reading this article.
Pokhara Regional International Airport 
We all Nepalese want to see the developed and prosperous Nepal at any cost.
Finally let's be optimistic that the government can accomplish all nation pride projects in the sated time bound.