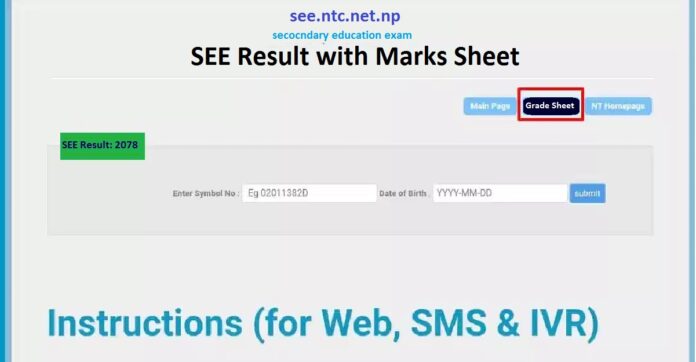 The office of the controller of examination is going to publish SEE Result with Marks Sheet. Get online SEE result from this page.

SEE Result with Marks Sheet
National Examination Board NEB publishes online SEE exam result. Here we give the steps to check online secondary education exam results. It is most awaited result in Nepal. Nearly five hundred thousand students are waiting for the SEE online result.
SEE result 2078 is coming soon. Hence students and parents can log in gbsnote.com for the online result. We provide SEE exam online result with grade sheet. Follow these steps for the online SEE Result 2078 2079.
SEE Exam Results Date
Generally SEE exam result date is the mid of June in each month. But due to pandemic this year SEE exam was over late. Therefore SEE result 2078 may come by the mid of July. No matter about it. Remain in this page to get all kinds of SEE exam related updates.
How to Check SEE Result with Mark Sheet?
It is the question in the mind of all students. Students are very smart due to progress in information and communication technology.
There are multiple ways to get online SEE exam results. It takes more than one hour to update the result in the data base. Hence during this hour you can get receive the online result.
Basically there are three different ways to get online SEE exam results with grade sheet.
SEE exam results in official websites
Private Blogs also provides SEE exam results.
Online SEE exam result via SMS
IVR system for the online SEE exam results.
SEE Result at see.ntc.net.np
Nepal Telecom has separate website to give SEE results. Hence students can visit this official page for the result of SEE 2078. As mentioned above there are nearly half million students waiting for the result.
Log in to see.ntc.net.np
Enter your exam roll number
Supply the correct date of birth according to your admission card.
Finally submit the details for the result.
SMS Method for SEE Online Result
If you are not in the range of internet or you do not have smart phone then in such case sms system is the best alternative for the online SEE exam results. Follow these steps for the result.
Go to the message box in your mobile
Type SEE give space and type exam symbol number with alphabet. Do not leave space between the number and alphabet.
Now send this message at 1600 from NTC or CDMA phones.
Do it at least one hour of the result publication.
It takes nearly one hour to upload the results in the database.
Check SEE Result by IVR System
Well to get the SEE exam result via IVR service dial 1600 from any NTC network phones. Now follow the instructions given over there. Just following these steps you will reach to online SEE examination Result 2078.
SEE Examination 2078 New Grading System
NEB has changed the letter grading system. Hence the students of SEE and grade 12 are going to be evaluated by the new grading system. Here we talk in brief about new SEE and class 12 grading system.
Details about it you can read in our previous articles.