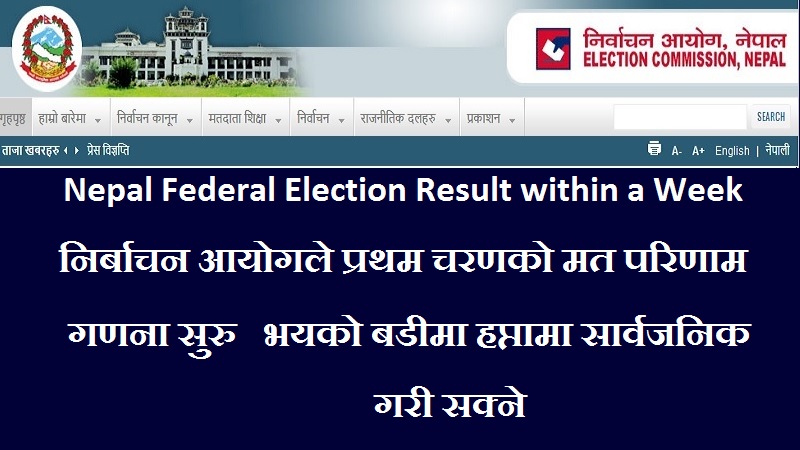 According to election commission Nepal Federal Election Result will be finalized within a Week since the vote counting starts. The spoke person for election commission Nepal says we have learnt many things from the previous local level election vote counting.
Nepal Federal Election Result within a Week
So this time we will complete the vote counting and final the Nepal Federal Election Result within a Week. Similarly the managerial and technical preparation for the first phase election vote counting is going in rapid motion.
Several factors were responsible for the delay of local election result. Firstly there were seven stamps in a single ballot paper. Secondly the election commission was not experience for such complicated ballot paper. On the other hand there were so many poll symbols in the same ballot paper.
These are some seen reasons why there was delay in the vote counting during the local level election. On the top of these there were many other unseen reasons for the late result.
What Election Commission Says about the Vote Counting of Federal election?
So this time the election commission Nepal EC says that we will not take more than a week to publish the federal and provincial assembly result from the day of vote counting. Beside this there are different ballot papers for parliament election and provincial assembly candidates certainly this will speed the vote counting. Next there are few poll symbols in the first-past-the post-race system of the election.
The less number of poll symbols will certainly help a lot for quick vote counting. One the other hand one stamp in one ballot paper will simplify the counting procedure.
Here we provide the hourly update of the vote counting of Nepal federal and provincial assembly first phase election. So you can join us in Social Media for the latest result of federal and provincial election 2074. For this purpose do not forget to like our official Facebook page GbsNote.
Nepal Federal Election Result is available in the Nepal Election Commission website www.election.gov.np.