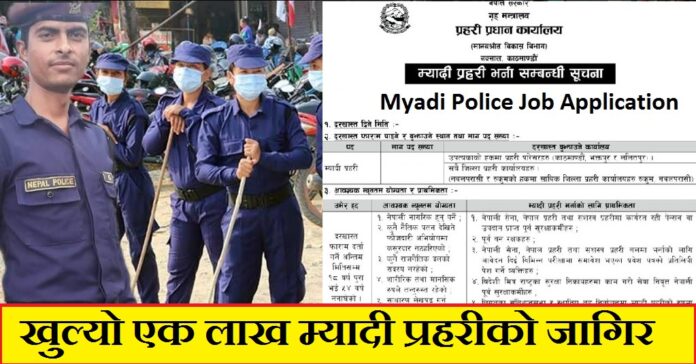 Are you thinking to join Temporary Police? Well, here we have Myadi Police Job Application Form. Submit it for the job.
Submit your online job application form. Nepal government is going to enroll more than one hundred thousand Myadi police for the election.
Selection Criteria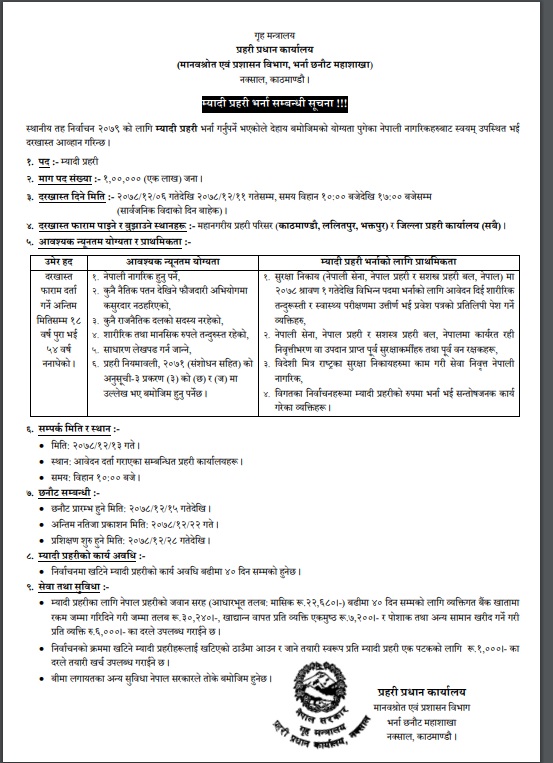 About Nepal Police
Nepal police has its own history. Here we discuss about Nepal Police Rank and Insignia. This might be crucial for the written exam of Nepal police job.
Nepal Police Rank and Insignia
There are altogether 14 ranks in Nepal police. Here we give the rank and their Insignia. Different rank police personal has different rank sign. There are questions about it in the written exam of Nepal police job. Hence it is useful for the Nepal police job seekers.
Nepal Police Job Obligation
Nepal police is always with Nepali citizens for the peace and security of the country. Hence it is the duty of all the Nepali people to give help and support for Nepali police in their duties. In all kinds of natural disasters Nepal police is always in the front line to provide the rescue and support.
Myadi Police Job Application Form
It is the job application form for Nepal police. You can print it and fill the form.
So in one sentence we can say that Police are Nepali citizens with uniform and Nepali citizens are Police without uniform.
These two parties are like the two wheels of the cart.
Nepal Police Job Notice
Here we provide all kinds of job notices of Nepal police. Nepal police open vacancy for both technical and administrative posts. Hence if you are really willing to serve the nation being Nepali police personal keep in touch with us.
We upload the job notice in this page.
Myadi Police for Election
The permanent police force is not enough during the election. Hence in this upcoming election Nepal government is going to enroll more than one lakh Temporary Polices. This group of people works just to conduct the election successfully.
Role of Temporary Police during the Election
The main duty of this temporary police is to keep the voters in queue. Arrange the ballet boxes properly. At last it is their duty to bring the ballet boxes in the district election office. Just from the next day of the polling their job will over.
Myadi Police job notice
As soon as the Nepal police announce for the application of Myadi police we will give that notice from this page. Hence always stay in touch with gbsnote.com for this notice. Many youngsters are commenting us in social media page that when the temporary will police vacancy open.