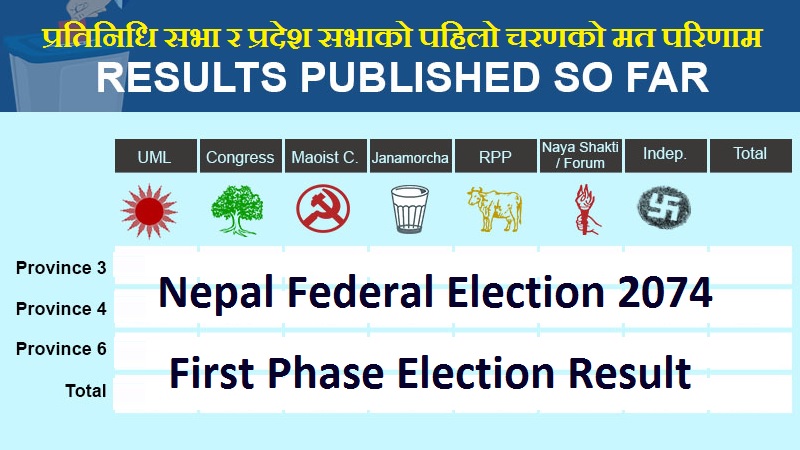 Here you find live Nepal Federal Election 2074 Results. So we give here Nepal Federal Election 2074 Results live updates.
Nepal Federal Election 2074 Results
Today that is the 26 November 2017 there is first phase federal election in Nepal. This 32 mountainous districts people are participating for pooling today. Most probably the vote count will start from tomorrow.
So as soon as the vote count starts we will notify about it via our social media page. There are altogether about 700 candidates in the first phase election. We have several articles about this first phase election in this page. So if you have not gone through them please check them once. This first phase election has 37 electoral areas.
Nepal Election Commission
According to Nepal election commission there is comfortable situation for the voters to participate in voting. The situation of peace and security is fine according to NEC. At the same time Nepal election commission is encouraging the voters to use their right of voting. It is the time to choose the best leader for the development of nation.
Donate your Vote but Do Not Sell it
It is our kind request to all the Nepalese people not to sell the vote in cash. It is a kind of donation so give your valuable vote to the right person. At this moment if we are not able to choose the right person for the parliament and federal election then how can we expect development in the country?
Second Phase Election
The same parliament and federal assembly election will held in remaining 45 districts in coming 7 December 2017.  So we will also provide the second phase election result in this page. Hence for Nepal Federal Election 2074 Result remain in touch with us.
We have given the live result for local level election too. Many good comments we have received at that moment.
For the live result of Nepal Federal Election of both phases just follows us on Facebook.
NB: We will upload the election result as soon as Nepal election commission publishes it. The official site for Nepal election commission is www.election.gov.np