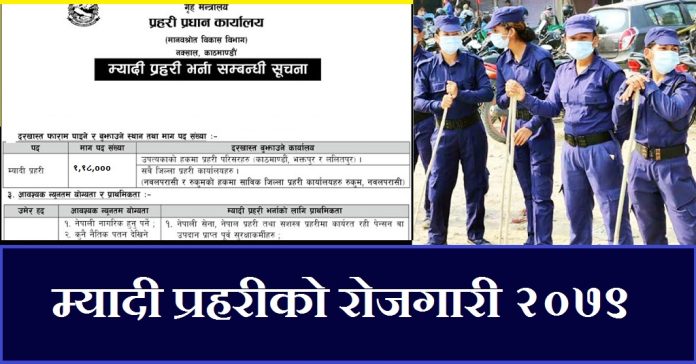 Nepal government is going to enroll Temporary Police for Election. Election commission will call for the vacancy via Nepal police.
You can submit the online job application. Fill all the details correctly before submitting it.
Selection Process
Here is the criteria for the selection of Myadi police. So, first check either you meet this criteria or not.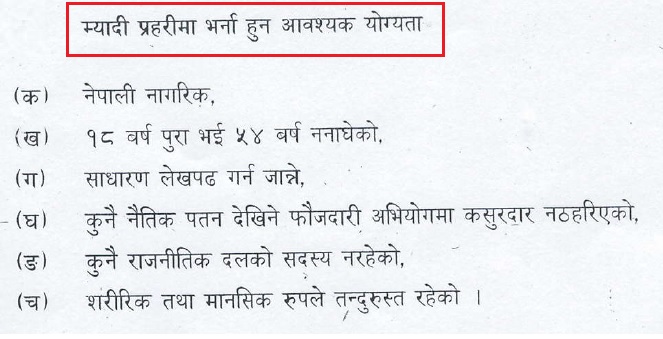 NB: Nepal government is planning to hire one lakh eighteen thousand Temporary Police personals for this local level election.
According to the source one third of the total election expenditure will for this short term police.
Here you will get the vacancy notice. Therefore remain with us for the notice.
How to Apply Temporary Police for Election Job?
You have to complete the application form and submit it in the determined collection centers. The details of the job vacancy are yet to come. As soon as the Temporary Police Vacancy is announced we will make it available here.
Perhaps you will be eligible for the online application for this police job.
Requirement for Nepal Provisional Police Job
The basic requirements for the Temporary Election Police is given below.
Nepali citizens
Not accused for any public cases and punished for it
Should not be the member of any political party
Mentally and physically fit
Able to read and write at least Nepali language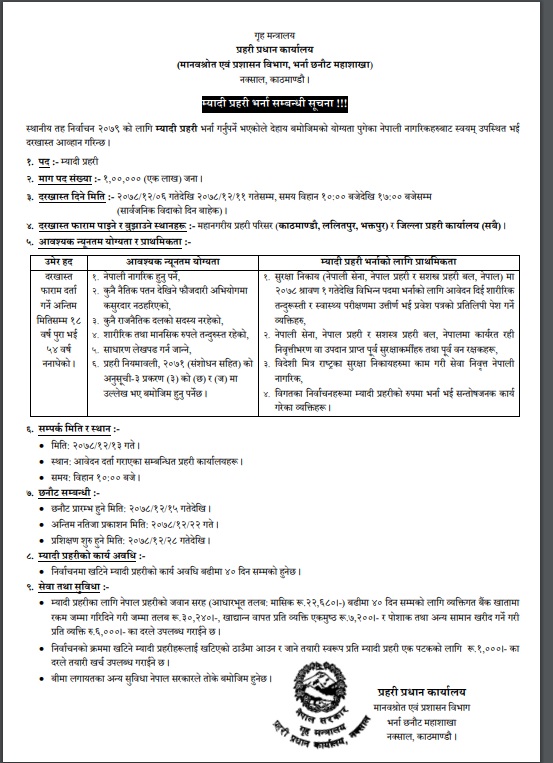 The Vacancy Announcement of Previous Election
In 2074 election Nepal government has hired 98268 Temporary Police. The copy of vacancy announcement was as follow. In the same way here will be the vacancy Notice of this local level election as well.
Priority Group for this Short Term Police Job
The retired Nepal army and Nepal police personals get priority during the selection. Beside this past forest security person are also encouraged for the application. Similarly, persons appeared for Nepal army and Nepal police selection process must submit the admission card of the selection process.
Interested Fresher can also apply for the post. There will be selection in the district police office of each districts in Nepal.
Temporary Police Vacancy for Election
Local level election 2079 takes place on Baishak 30 2079. This time the election will held in a single shift. Hence there is huge requirement of security persons.
It cannot be fulfilled by Nepal police force. Short term Police persons will fulfill this additional requirement of security persons.
Interim Police Force for Election
Nepal Police has announced the vacancy for provisional police persons. This group of people will work for the completion of the election. Basically these provisionary Police persons works for few months only.
Nepal government is planning to conduct the local level election at once throughout the nation. Hence there is demand of more Maydi Prahari in this election.
Beside this we provide notice and information about Dubai police, Qatar Police and Singapore Police job. If you want to learn more about these jobs check our previous articles.
We give all kinds of information about abroad jobs. Hence interested can log in gbsnote.com for entire foreign employment.
Find the working visa job in USA. Know how to apply work permit visa in Europe. Similarly get knowledge about Canada working visa from Nepal.