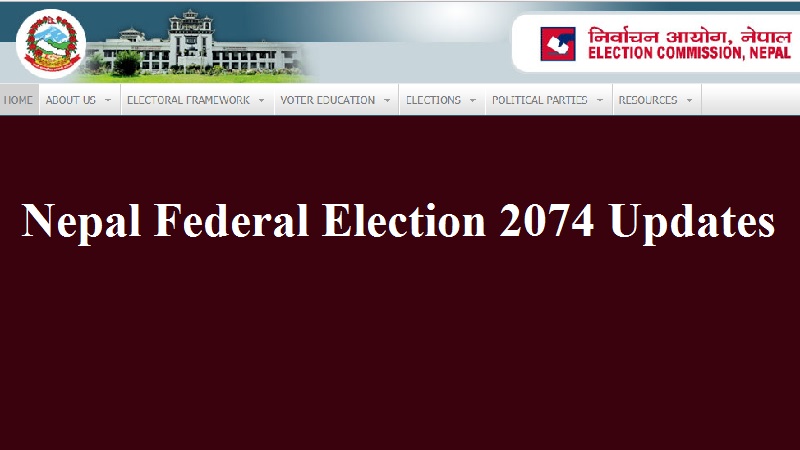 Here is Nepal Federal Election 2074 Updates. We are going to observe Nepal Federal Election 2074 in near future.
According to the election schedule of election commission this federal and provincial election is going to held in two phases. So in the first phase the polling will be in the mountainous districts. There are 32 districts in the first phase Nepal Federal Election 2074. Similarly in the remaining other districts the election will be in the second phase.
Nepal Federal Election 2074 Schedule
The first phase Nepal Federal Election 2074 is on 10 Mangsir. It is November 26 2017. Nepal government has already started to enroll the temporary police for this election purpose. According to the information given by the concerned authority this temporary police will work for two months. So these temporary police also called Myadi Prahari will help the Nepal police force to conduct the polling procedure.
Call for International Election Observer
Nepal election commission has made call for the international election observer. The interested group or individual can submit the online application for the election observer. So the details can be obtained for the undersecretary Mukunda Sharma. The email address for this purpose is [email protected].
The list of first phase election 32 districts is given below.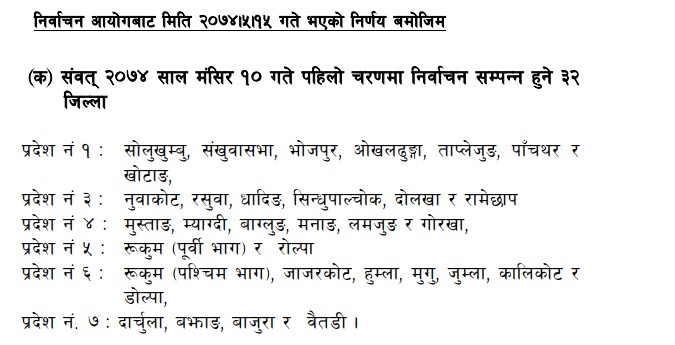 Election Commission Nepal Mobile App
Election commission Nepal has its mobile app. So if you just download this app in your mobile then you can easily get the election updates in your mobile phone. The election commission mobile app is ECN App. So just go to Google play and download it.
Electoral Education
Election Commission, Nepal (ECN) has recognized electoral education as a significant building block for promoting free, fair and credible elections. Therefore It has perceived electoral education as a continuous process to impart electoral knowledge throughout the country. For the promotion of electoral education across the country, ECN introduced Voter Education Policy, 2013 and has been rigorously working to implement the policy.
Hence if you need more information about electoral education please visit the official site of Nepal election commission. The official site of election commission Nepal is election.gov.np.