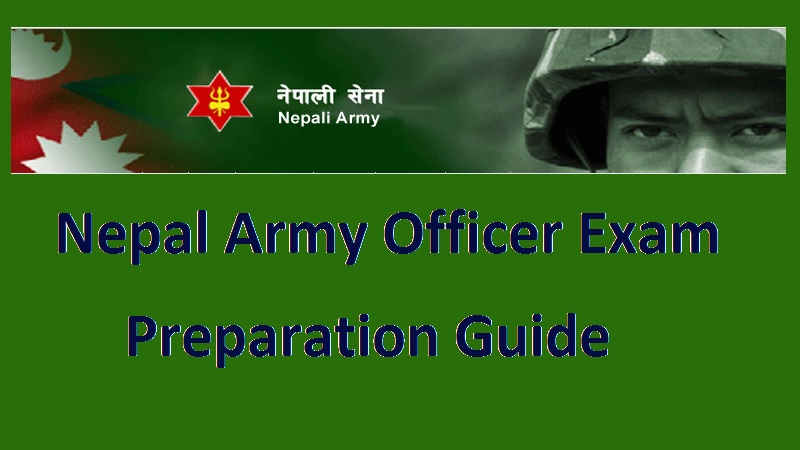 It is Nepal Army Officer Exam Preparation Guide. This Nepal Army Officer Exam Preparation Guide is prepared by our expert team.
Nepal Army Officer Exam Preparation Guide [Curriculum]
The open competition written exam of army officer consists of four subjects. These four subjects are Nepali, Mathematics, English and General Knowledge. Each subject contributes 12.5 marks questions. So we give the model questions for each subject. These are some sample questions only more you can take online help from our subject experts.
The total full marks for these four subjects are 50. Out of these fifty full mark 21 marks questions are subjective and 29 marks questions are multiple choice questions.
Nepal Army Officer English Questions
Unit One: Reading Comprehension (5×1=5)
Comprehension Passage A passage with a paragraph (about 150 words) will be given and five comprehension questions will be asked. Each correct answer carries 1 mark and evaluation will be made on the basis of language and content.
Unit Two: Writing (2.5) Paragraph writing (about 150 words)
Candidates will be asked one question from this unit that contains 2.5 marks and evaluation will be made on the basis of content, coherence and language.
Unit Three: Grammar (10×0.5=5)
Articles and nouns
Pronouns
Adjectives and adverbs
Prepositions (in, on, at, by (location and time), since, for
Questions
             Yes/no questions
             Questions tags
             Information questions
Transformations:
            Affirmative and negative sentences
             Interrogative sentences
              Active and passive sentences
             Direct and indirect speech
Conditional Sentences
Tense
Note: From this unit candidates will be asked 10 multiple choice (content based) questions and each question carries 0.5 mark.
Rewrite the following sentences selecting the correct answers from the brackets.
Can you tell me who is……………President of Nepal? (a, an, the, x)
The fan is hanging………….the ceiling. (on, below, under, in)
You'd better go by bus, ………………? (wouldn't you, hadn't you, don't you, do you)
None of the students……………..finished the class work yet. (have, has, was, is)
Did Suman…………….his work to his teacher? (shows, showed, show, has shown)
"Don't drive the car". The passive of this sentence is: ………………….. (The car should be driven by you, You shouldn't drive the car, Let the car not be driven)
If you don't stop gossiping, I……………..the class. (would leave, will leave, would have left)
I invited Monica, but she said,"……………..to the party on Friday."(She couldn't, I can't come, She will come, She can't come)
My shoes are dirty. I will get the cobbler…………..them. (to polish, polish, polished, to be polished)
People have their bills…………………. (pay, to pay, pays, paid)
………………being hard working, Nepalese are still poor. (Despite, Though, However, Because of)
Nepal Army Officer Exam Preparation Guide Model Questions
Rewrite the following text filling the gaps with the correct words from the brackets.
Long ago there was……………….(a/ an/ the) old man who lived in a village………………….(in/ with/ for) his family. The old man wasn't happy……………..(because/ so/ although) he was rich, that's why his sons were very lazy. Because of their laziness, they did not help their father in farming. He asked his sons………………..(why don't you/ why they didn't/ why didn't he) take interest in farming.
English Model Questions
He was very angry and said, "You are foolish",………………….(don't you/ weren't you/ aren't you)? Finally, he advised them……………..(not to waste/ don't waste/ didn't waste) their time. The farmer was very wise so he made his sons………………(worked/ to work/ work) hard. He got is wife…………….(call/ called/ to call) his sons and told them to take out the money from his land which he had buried. After his death, the son dug the entire land to find the money. When they didn't find any they sowed seeds in it. After few months a lot of grain……………….(is produced/ was produced/ would produce). Then they realized that if they hadn't dug the land, they……………(won't get/ wouldn't get/ wouldn't have got) the grain.
Fill in the spaces with the correct words given in the brackets.
a) He made………………….U-turn and vanished into the mass. (a, an, the)
b) The woman……………..red saree is my elder sister. (with, on, in)
c) Ten kilos of rice…………….bought yesterday. (is, were, was)
d) Mohan told Sunita to do the exercises………………..(himself, herself, themselves)
e) I'm tired and hungry,……………..? (isn't it, aren't I, am I)
Change the following sentences as directed.
a) Carol bought a new mobile. (into negative)
b) Anup has lost his bag. (into what question)
c) Farmers grow food for us. (into yes/no question)
d) He didn't give any books. (into affirmative)