National Examination Board Nepal Routine is out today. So you can download the National Examination Board Nepal Routine from here.
National Examination Board Nepal Routine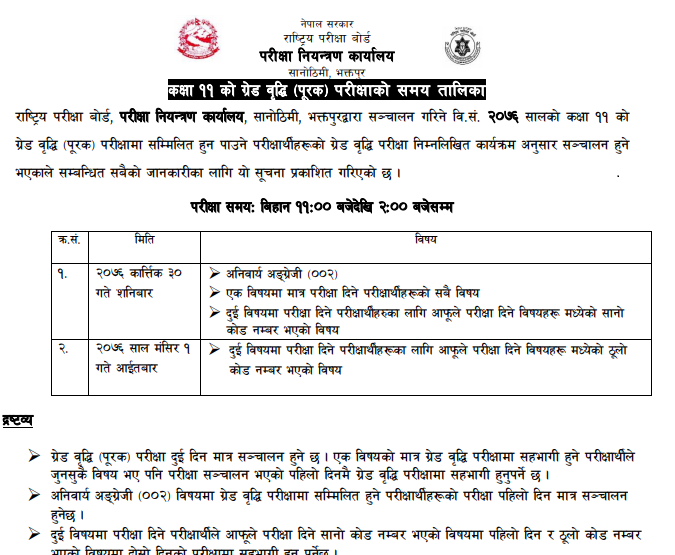 National Examination Board Nepal Routine for grade 11 and grade 12 is out now. According to the published NEB exam routine class 11 exam begins from Baishak 30.
See Also: Grade 12 Physics and Chemistry Questions
Similarly the exam for class 12 begins for Baishak 14. The detail of the exam is in the cut piece of Gorkhapatra attached over here.
---
---
How to Prepare the Board Exam?
Students are always worried about their exam. So here we give you some tips for the exam preparation. Let's see them in points as given below.
Make yearly plan at the beginning of the academic year.


Give equal importance to each subject

Never overlook the subject which you feel hard

Make daily routine for your study

Daily routine helps you to manage the time properly and equally to all the subjects

Report the exam hall in time

Check all the essential material for the exam before you leave for the exam.

Well these are the few tips on exam preparation. on the top of this you can find many more ideas to prepare the exam in our previous article in the title " How to Increase Memory Power".
Besides the exam timetable we also provide the board exam result of National Examination Board Nepal. We have been working on it for many years.
So if you are the new visitor please do not forget to like our Facebook page. Our Facebook page is GbsNote. If you are with us in social media you will automatically get the result in your timeline.
What you Get more in this Page?
Perhaps we are the knowledge hub for Lok Sewa Aayog. We have hundreds of article in the title Lok Sewa Aayog. So we encourage our visitor to see these articles for the preparation of Lok Sewa Aayog exams.
We provide the name list of DV winners from Nepal. So if you are in search of EDV result you are in correct destination.