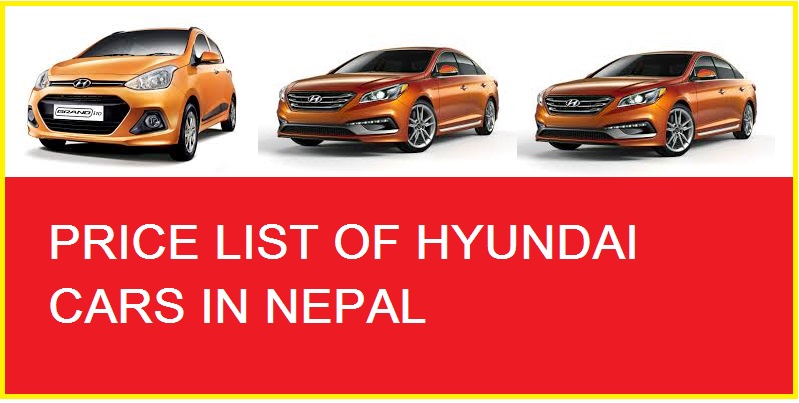 Hyundai cars are very much popular in Nepali market. Here we are going to include the Hyundai cars Nepal price list. It provides the user to manage their budget. Hyundai cars Nepal price list includes the all taxes to be charged to the user. This Hyundai cars Nepal price list is taken from the authorized dealer of Nepal.
 Hyundai Cars Nepal Price List
Hyundai Cars Nepal Price List

1

EON
Dlite Plus

814 cc
Petrol
1756000
Era Plus

814 cc
Petrol
1896000
Magna Plus 1.0
998 cc
Petrol
2076000
2
I 10 1.1
Magna 1.1
1086 cc
Petrol
2296000
3

Grand i10
Magna 1.2
1197 cc
Petrol
2656000
Sportz
1197 cc
Petrol
2826000
Asta
1197 cc
Petrol
3056000
4
Elite i 20
Magna
1197 cc
Petrol
3096000
Sportz
1197 cc
Petrol
3356000
Asta
1197 cc
Petrol
3496000
5
Xcent
Base
1197 cc
Petrol
2756000
S
1197 cc
Petrol
3096000
Sxo
1197 cc
Petrol
3496000
6
VERNA
1.6 [O]
1591 CC
Petrol
4196000
7
I 20 active
S
1197 CC
Petrol
3696000
S DLS
1396 CC
Petrol
4196000
SX DLS
1396 CC
Petrol
4556000

8

CRETA

BASE 1.6
1591 CC
Petrol
4156000
S 1.6
1591 CC
Petrol
4556000
SX + 1.6
1591 CC
Petrol
5156000
SX+[ AUTOMATIC]
1591 CC
Petrol
5556000
BASE 1.4 DLS
1396 CC
Diesel
4556000
SX + 1.6 DLS
1582 CC
Diesel
5756000
SX+ 1.6 DLS [ AUTOMATIC
1582 CC
Diesel
6156000
SX [O] 1.6 DLS
1591 CC
Diesel
6096000
9
TUCSON
GLS Petrol [low Trim]
1998 cc
Petrol
8196000
GLS Diesel Auto low Trim
1995 CC
Diesel
9196000
GLS Disel Auto high Trim
1995 CC
Diesel
10296000
GLS Petrol Auto high Trim
1995 CC
Petrol
9296000
10
SANTA FE
GLS AUTO HIGH TRIM
2199
Diesel
12296000
Hyundai Cars Price List
The price list mention above is the price list of December 2016. If you are thinking about purchasing car please first collects all the details of several model of different companies. So take the entire information before making concrete decision.
This list of price of Hyundai cars will also help you a lot for making your decision. It certainly gives you some ideas to decide your choice. Basically the beginners are found in confusion about purchasing the car.
Best second hand cars: www.autotrader.co
Important Points to Remember While Buying Cars  
See the number cylinders of the vehicle
Be familiar about the facility available in the vehicle
Make sure about the availability of the spare parts
Know about the cost of spare parts
Talk about the cars to the previous users
Things to Remember While Driving Car
Drive with great concentration
Never mix two D that is drink + drive
Always following the lane and other traffic rules
Use your seat belts properly
Maintain your car regularly
Never neglect the repair of car though it is minor
If we just follow the above points many accidents in the car can be omitted. Hence follow the rule and regulation while driving vehicle so that we should not regret later. It is said that prevention is better than cure also keep this thing in your mind while driving the car.
Online Driving License Application