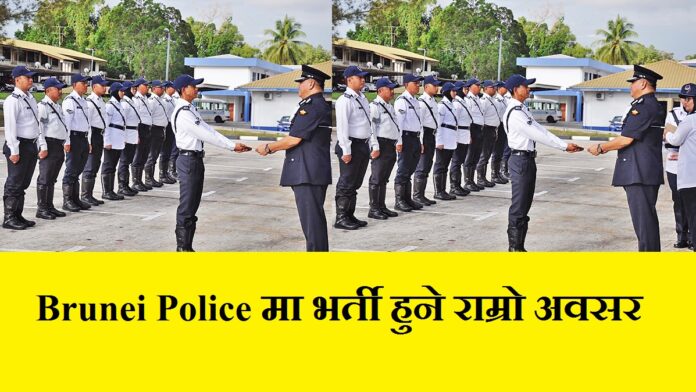 People are searching for how to join Brunei police job. Hence to fulfill their desire here we have the detail procedure on joining Brunei Police.
Complete your online job application from here. If you have any further queries contact us.
Do not skip the article. Read this article till the end to learn about Brunei police job application process.
How to join Brunei Police?
The statistical data shows that about 273 million people in the world lives outside their birth country. Among them nearly 65 percent people moves in search of jobs. Eighteen countries in the world recruit foreigners in their security force.
Physical Criteria for Brunei Police
Male candidate's height not less than 5 feet and 6 inch and weight not exceeding 60 kg.
Female candidate's minimum height 5 feet 4 inch and weight less than 55 kg.
Steps to Join Brunei Police Force
The Application forms are available at Royal Brunei Police Force website at www.police.gov.bn.
You can get the forms from the Recruitment Unit, Police Training Centre, Police Headquarters,Gadong.
Complete the online forms and return to Brunei Police Headquarters for the police officers job.
Similarly for none officers post return forms to Recruitment Unit, Police Training Centre, Police Headquarters, and Gadong.
For further inquiries or information, please contact 2423901 extensions 536/179/228/250.
Salary Sheet of Brunei Police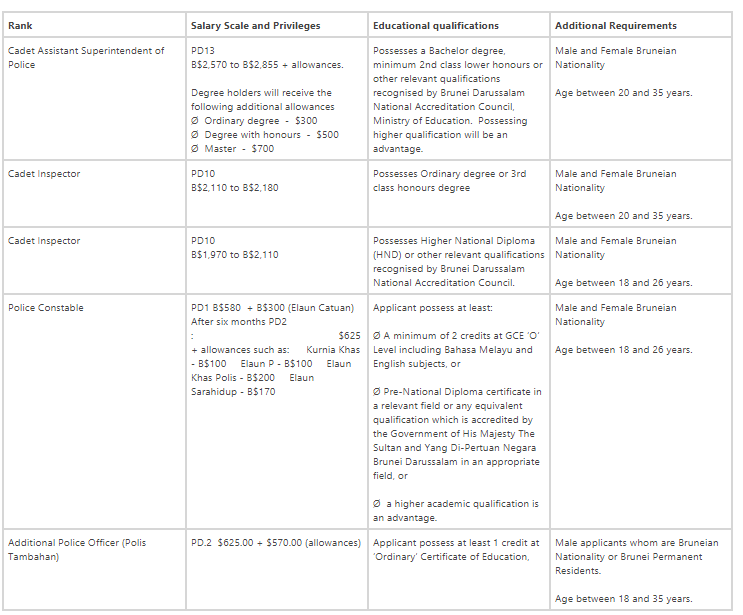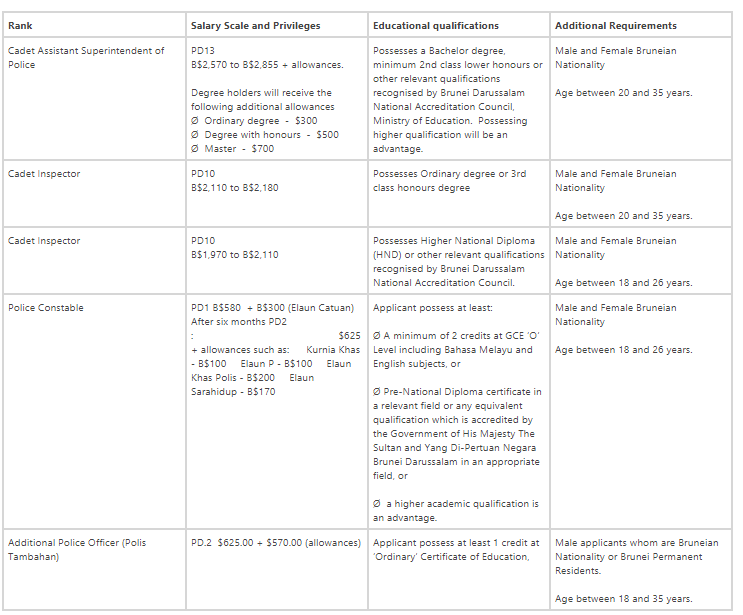 NB: Read the article till the end to know more about Brunei police force.
Nepalese in British and Indian Army
Nepalese are serving as British army for many years. They are called Gurkhas. There is glorious history of Gurkhas in British army history. Similarly there is separate unit of Nepalese in Indian army.
These two countries are recruiting Nepalese for hundreds of year. In the recent years some other countries in the world are enrolling Nepalese in their security force.
France has one separate unit in its armed force. It is known as French Foreign Legion. In this unit interested Nepali youths can join as an army. It is flexible in comparison to British army and Indian army. It has wider age range.
That means people below 40 years are eligible for the French army. The enrollment begins in France itself. So there are no any agents in Nepal for this.
But now due to pandemic of covid 19 the early selection process is online selection. It means you have to send your bio-data in the official email of French Army.
Details about it you can read from our previous articles on the top French Army Job for Nepalese.
Singapore Police Job for Nepali Youths
Well there are two categories in the Singapore police. Like first one is selection from Nepal. This selection is at the time of British army selection from Nepal.
The next one is direct selection from Singapore. Currently the vacancies are open in the direct selection from Singapore.
One batch of 170 people is now working in Qatar Police. They were selected in September 2019. Manpower in Nepal arranges interview and other selection process. In this Police job there are two categories of enrollment.
Ex-army or Police can Join Qatar Police
Well for this group there is one provision. Their age limit and other terms and conditions are different from the fresher.
Fresh Candidates for Qatar Police Job
Fresh people that is who has no experience in army or police. This group of people can also join Qatar police. However the terms and conditions for this fresh group of people are different from the ex-army or police.
The details about Qatar police you can read in our previous articles. If you have any question leave it in the comment box. Our experts team will reply soon.