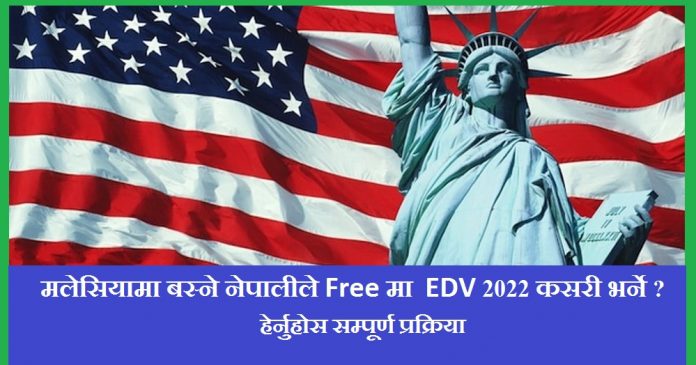 Nearly one million Nepalese work in Malaysia. Hence here we talk about How to Fill DV Lottery Application from Malaysia.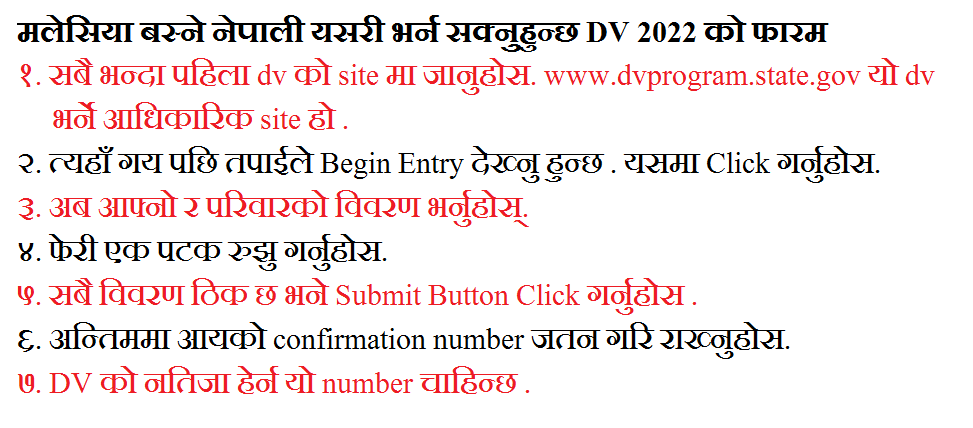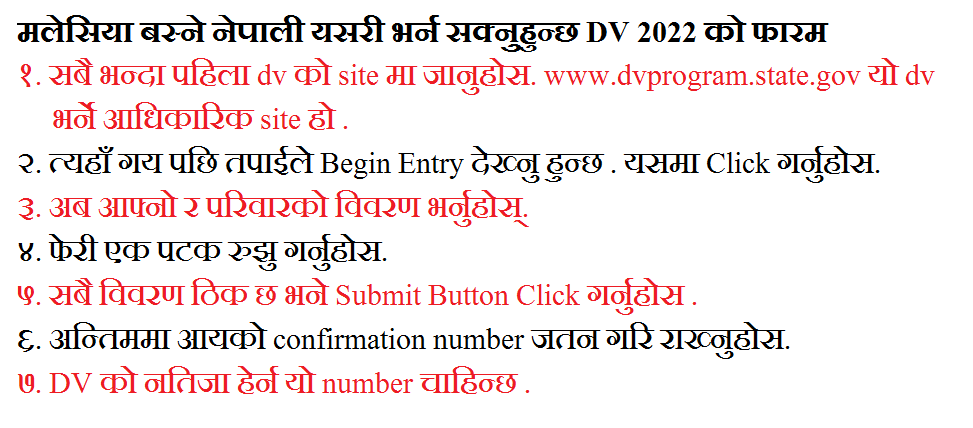 How to Fill DV Lottery Application from Malaysia?
As mentioned above there are around ten lakh Nepali brothers and sisters working in Malaysia. All of them are eligible for the dv lottery application. But some of them may not have idea about the dv lottery application. So here we provide very easy steps in simple language to complete online dv form from Malaysia.
Nepalese living in Malaysia Can Fill DV 2022
All the Nepalese Working and Living in Malaysia Can Fill DV 2022 online application form. But before starting the online application form please read this instruction carefully. A small error leads your application form to disqualification.
You cannot wear glasses in you dv photo. All the dv lottery photographs must be the recent one. It means you cannot use last year dv lottery photo. Passport number and expiration date and country of issuance is mandatory for the principal applicant.
DV Lottery Photo
You have to prepare the DV lottery photo before starting the online application. If you want to learn more about the DV photo shape, size and color see our previous articles. but very briefly it must be in light background and size of the photo must be 600×600 pixels.
Follow these Steps to Fill DV Lottery from Malaysia
First of all go to the dv lottery official website. The official website to fill the dv lottery online form is www.dvprogram.state.gov
Here you can see one green color button written Begin Entry. Click on this button.
Now you can see the main page of dv lottery application. In this page you have to fill the important family details.
Upload the photographs.
Now click on continue button. So you will reach to correction page. This gives you opportunity to check and correct the information if there is any error.
Finally submit the online form.
Now you will receive a message telling that your application for is successfully submitted to the state government.
At the same time you will receive a confirmation number. This confirmation number is required for you to check the dv lottery result. So print it or save it in your computer.
So, while fill the form if you have any confusion let us know about it. Just leave your question in the comment box below. We are very happy to reply your questions.