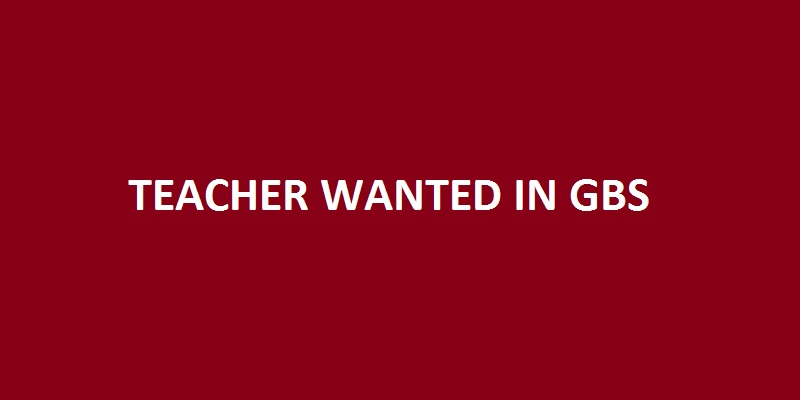 Here is GBS vacancy announcement notice. According to the GBS Vacancy Announcement Notice there are 3 vacancies for the teachers. Gandaki boarding school is the leading institution in Nepal. It has the history of 52 years. The name and fame of GBS is worldwide. So there is chance to serve such an intuition. So hereby would like to inform all the interested candidates to go through the notice attached in this article. At the same time we would like to inform you that please share the notice to your friends and relative so that they will be well informed about this notice.
Karmchari Wanted in GBS

Physics Teacher Full time contract
This is level 8 posts in GBS. The qualification is masters in relative subject. The deadline for the application is July 9 2017. More details you can get from the school office. We have several articles related to Gandaki boarding school in this website. Therefore interested can go through these article to know more about GBS.
Permanent Mathematics Teacher level 7
There in the vacancy there is one permanent Mathematics teacher wanted. The benefits and other terms and condition will be according to the GBS policy. So, more information about this post can be obtained from school office. Similarly the application form can be downloaded from the official website of Gandaki boarding school. Further details you can find the attached notice.
Permanent Science Teacher level 7
There is one science teacher wanted in GBS. The detail about this post is also given in the attached notice. Similarly the application form for science teacher is available in the website of Gandaki boarding school. So, if you are interested to know more about GBS you can visit gbsnote.com, where you can find several article about Gandaki boarding school.
Best of luck for all the candidates.
Search Related Terms:
best boarding school in nepal + list of school in Pokhara + best school in Pokhara + motherland higher secondary school Pokhara + shishu niketan higher secondary school + shanti deep english school + mount everest boarding school + sos hermann gmeiner higher secondary school