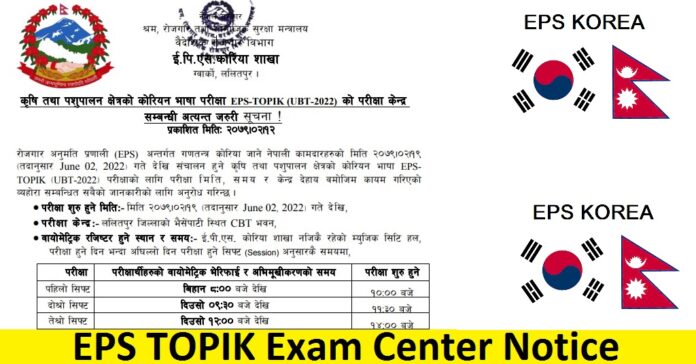 It is HRD Nepal EPS TOPIK Exam Center Notice 2022. EPS Nepal has published the exam center for Korean language test exam.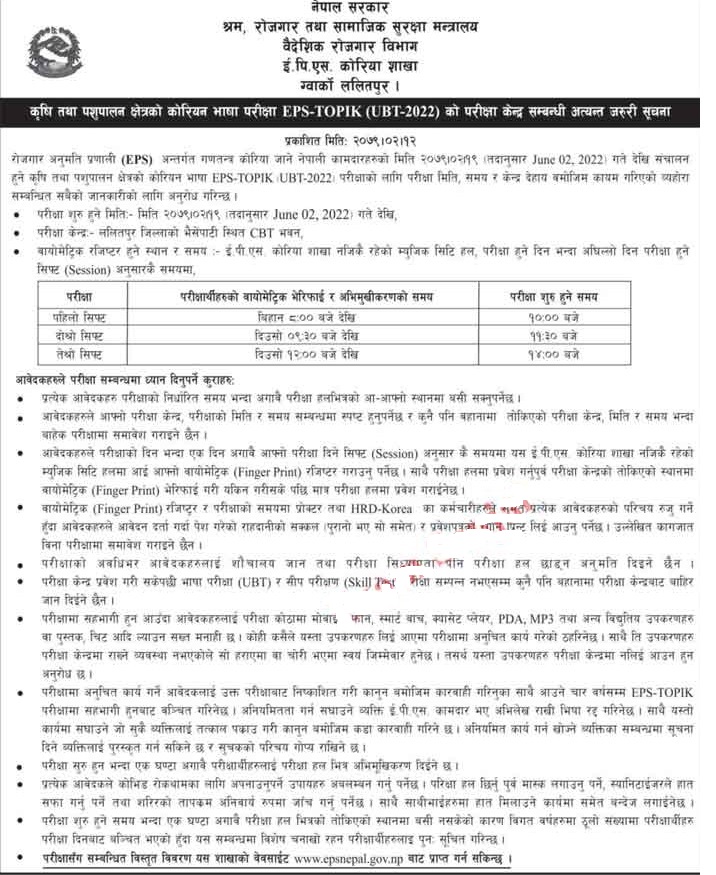 EPS TOPIK Exam Center Notice 2022
Here you can find the official copy of EPS Nepal exam center notice for Korean language test. It is Korean Bhasa Test exam for people willing to go Korea under employment permit system i.e. EPS.
Korean Language EPS Topik Exam date and center has published. According to the notice the exam begins from 2 June 2022 in three shifts. The exam center for EPS TOPIK 2022 is CBT building in Bhaisaypati Lalitpur Nepal.
Exam Date and Time
Here you find Korean Bhasa exam date and time. Check the details about the EPS TOPIK 2022 exam in the following official notice of HRD Nepal Gwarko Lalitpur. Nepal government department of foreign employment has called the application for the Korean Language Test exam.
Different Sectors EPS TOPIK Exam Dates and Time
Find the date and time for EPS TOPIK exam for different sectors below. Korea takes the workers in different sectors. According to the sector the language proficiency test is also different. Hence get the details about the exam according to your application sectors.
Working Visa Job in Korea
Beside EPS Korea provides working visa for the foreigners. If you have the skill required for Korea then you can apply for this working visa. Thousands of migrant workers move Korea under this visa. If you want to learn more about it check our previous articles.
The next opportunity for the Nepali migrant workers is US work permit visa. Every year the state government provides thousands of working visa for the foreigners. This visa includes seasonal workers as well as skilled workers.
22 Thousand Working Visa for America
There is acute shortage of labor in American labor market. Hence US government is going to enroll 22000 additional migrant workers in their labor market. This is additional workers. There are already regular numbers of migrant workers for USA.
Hence looking at this it can be the golden opportunity for the Nepali migrant workers willing to live and work in USA.
You can read more about it in gbsnote.com under us working visa.