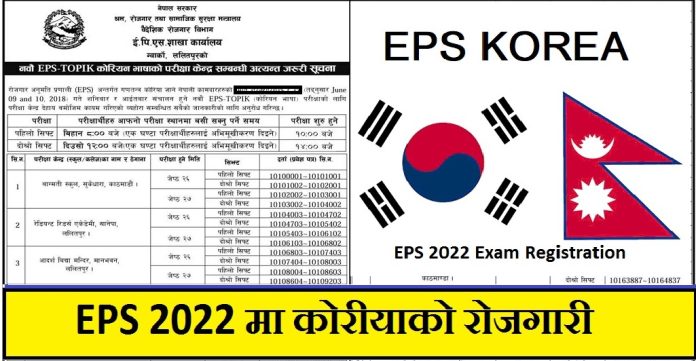 South Korea has announced EPS 2022 Exam Registration Notice. Interested candidates can submit their online application from here.
Complete your online registration form via this page.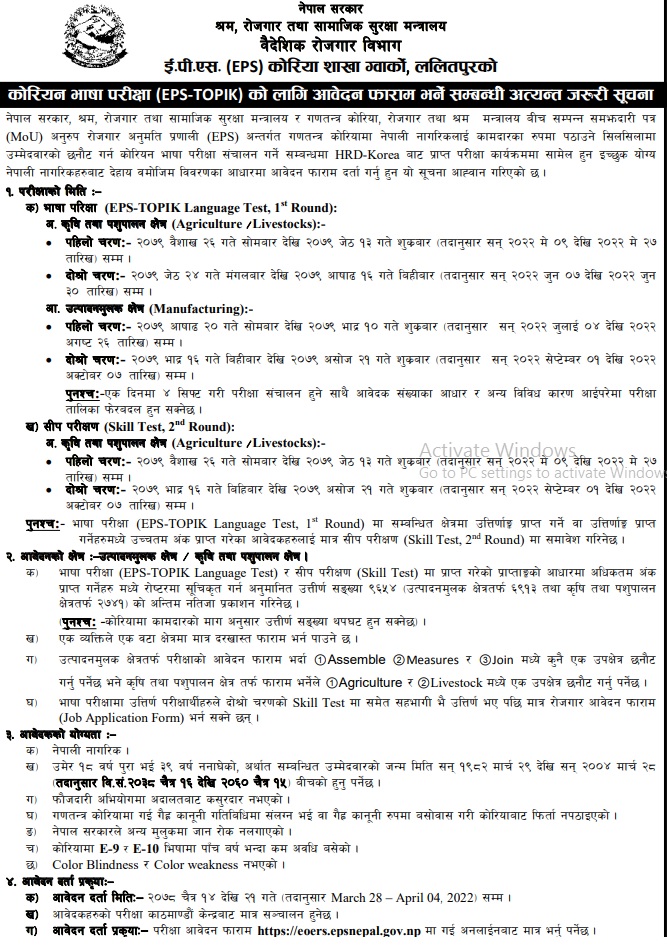 EPS Employment Process
You have to complete the following steps to get employment under EPS system.
Qualification for the EPS Exam
Candidates must be above 18 and below 39 years.
Not involved in any criminal activities.
People with valid passport
Not expelled from south Korea
People fulfilling the other requirement for abroad jobs.
Korean Language Test
Nepal government publishes the exam time table and the number of vacancy in different sectors.
There will be pre information about the exam for the concerned people.
EPS Exam Questions
You have to face the questions in the following categories.
Listening 25 questions
Reading 25 questions
Total 50 questions for 70 minutes time period.
Minimum pass marks is 80. This Korean language test certificate is valid for two years only. So if you are not able to move Korea within two years then you have again face the language test.
EPS 2022 Exam Registration Notice
South Korea takes migrant workers from different countries. Due to covid 19 pandemic the EPS TOPIK was paused for more than one and half year. But now the committed workers from has already moved to Korea. You can get the exam registration details from the following notice.
Apply Online Form
You have to submit the EPS TOPIK exam form via online mode. Similarly you have to make the online payment of the exam fee. Details of the online exam process are given below.
EPS 2022 Resumed
Finally Korean government is ready to take migrant workers from Nepal. Here is the exam schedule for 2022 EPS. If you want to learn more about it you can log in to the human resource department Korea.
Contact Details in Nepal
Nepal EPS Center
Opposite to Guna Cinema Hall
Gwarko, Kathmandu
Phone: 977-1-5520445
EPS 2022 Result
HRD Korea publishes the result of EPS TOPIK. We will upload the result of EPS Nepal in this page. Hence all the candidates from Nepal can find their result from this page.
Finally we would like to express our best wishes to all the EPS 2022 candidates from Nepal.