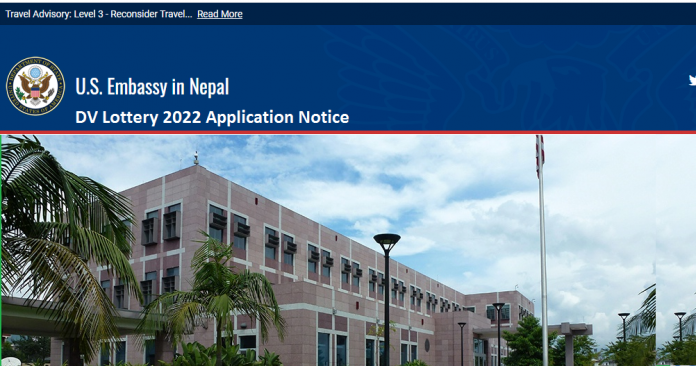 American embassy Nepal has recently published DV Lottery 2022 Application Notice. So here we provide the details about EDV 2022 application.
DV Lottery 2022 Application Notice
US Embassy Kathmandu gives the DV lottery application notice. Hence we will get the official notice via this page. Therefore we request you to remain in touch with us for the timely notice of diversity visa lottery.
People are also interested on:
At the same time we provide step by step process to fill the DV lottery form. If you wish you can apply the dv lottery form yourself. Here is step by step guide to fill the dv lottery form.
DV 2022 Application Date
The dv lottery 2022 application period is about five weeks. It is somehow similar to the previous years. This year electronic diversity visa EDV application begins from the first week of October 2020.
There are some new rules in this year dv program. We have separate article about the new rules of DV. Hence we kindly suggest you to check it our previous articles.
DV lottery photo is very important part of your application. Every year thousands of dv application becomes invalid due to wrong size photograph. But you people will not know either your application was valid or invalid. The application software also does not reject the incorrect size photograph. Hence you have to provide the correct size dv lottery photograph.
DV lottery Application Steps
First of all log in to www.dvlottery.state.gov
Select the new application tab.
Fill all the family details.
Upload the correct size dv lottery photo.
Once check the form.
Now submit the application form.
So after summiting the form you will get the confirmation number. If you have printer connected in your computer print this page and if you do not have the printer save this page. This is confirmation number is required during the result.
DV Lottery Rumor and Facts
There are rumors about the DV lottery in the market. Some people are saying that state government will shut down the program. But the fact is that America is in need of manpower for the stability of the economy. Currently the world economy is down due to covid 19.
So to improve this situation there is demand workers in the labor market. It is cheap to heir the non-native manpower. So to occupy the large geography America is always in need of migrant citizens.