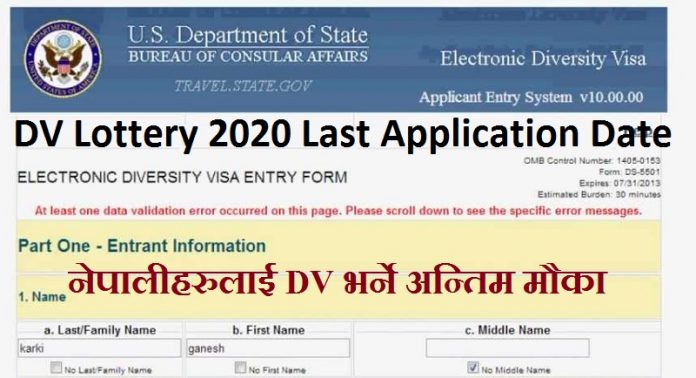 DV Lottery 2020 Last Application Date is 6 November 2018. So we suggest to all to fill online application form soon.
DV Lottery 2020 Last Application Date Information
As mentioned above edv 2020 close on 6 November 2018. The more details about DV Lottery 2020 Last Application Date are given below. According to the notice given by US embassy Kathmandu it is better to fill the application form as early as possible.
Therefore do it fast and complete your online application via your smart phone.
State government has introduce some new rules for EDV 2020. So we suggest all to go through these rules carefully.
It is easy to fill the online dv lottery application form via mobile phone. The only thing is you need internet service in your mobile phone. The mobile phone user can complete the online dv application by the following steps.
Step by Step Process to Fill Online EDV 2020 form
First of all go to the official website of state government.
Make the online checking of the dv photo from there.
Fill all the personal details carefully.
Once check the details before submitting.
Give the link of photograph.
Finally submit the application form.
Keep the conformation thus obtained safely.
What is Conformation Number???
The number you obtain after the successful submission of the online dv lottery application is called conformation number. It is necessary while finding the dv result. So keep this number safely. However, you can find the dv result if you lost this conformation number.
EDV 2020 might be the last chance for Nepalese to get diversity visa. The number of Nepalese migrant is growing day by day in America. Hence this 2020 dv lottery can be the last chance to get green card to live and work America.
Last EDV Chance for Nepalese
As mentioned above perhaps dv 2020 will be the last chance for Nepalese to get diversity visa to migrate USA. So hurry up to complete the online application. We have several articles about the diversity visa lottery. So if you need any kind of help and support about electronic diversity visa contact us.
Free Counseling for DV Lottery Winners
Are you waiting for the interview letter for dv lottery? Do you need sponsor letter from America? Well then find our article to get the answer of all such questions. Beside this our expert team for foreign affairs provides free online counseling so try this facility.