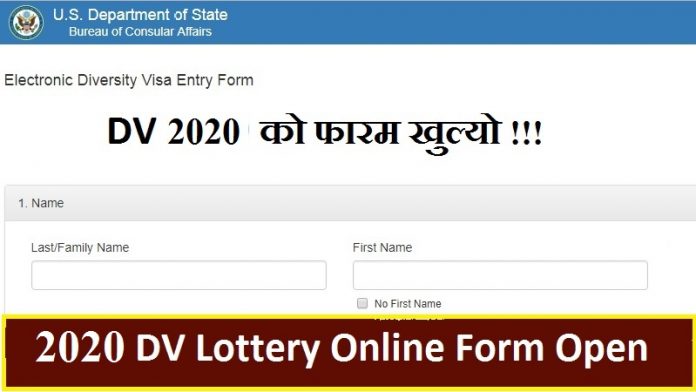 EDV 2020 DV Lottery Form 2020 is now open. So you can fill the EDV 2020 DV Lottery Form 2020 from here. So we give the easy steps to fill the EDV 2020 DV Lottery Form 2020 in this page.
EDV 2020 DV Lottery Form 2020 Easy Steps
DV lottery is the easiest way to live and work in America. So if you are willing to live and work USA you have to fill the DV lottery form. There are thousands of Nepali people living in America as the permanent resident under this category. Now we talk about the steps to fill the online EDV form.
First Step: Go to the official website of dv lottery.
Second Step: Give all the personal details of you and your family as required.
Third Step : Check all the details before final submission.
The most important thing while filling the dv lottery form is the personal information. So you must not submit the fake information. So just being selected in the lottery is not the end of dv lottery. There are several other steps to go for final visa.
The fake information is never accepted in this program. Secondly you must be high school graduate. If you are not high school graduate you need valid training certificate. For more details about the training you can check the dv lottery official website.
When will DV 2020 Opens?
According to the concerned authority this year dv lottery 2020 will start from October 3 2018. This year edv 2020 forms will close on November 8 2018. But in case of technical error the time period of dv lottery application may change. So the timely notice and information remain in touch with GbsNote. We give every detail of the dv lottery in our web page.
EDV 2019 Result Urgent Notice
Due to a technical issue, the DV-2019 entry period that began on October 3 was closed. Entries submitted during October 3-10 are not valid and have been excluded from the system; they did not count as a duplicate entry. A new full entry period began at noon, Eastern Daylight Time on Wednesday October 18, 2017 and ran until noon Eastern Standard Time on Wednesday November 22, 2017.
Only entries submitted during this period were accepted and considered for selection in the lottery. Please throw away any confirmation number or other documentation that you have if you submitted an entry during Oct. 3-10.
This EDV 2019 result notice is collected from www.dvlottery.state.gov