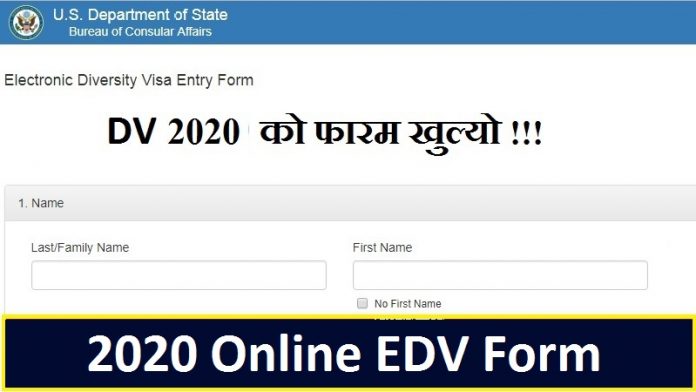 Here are steps to fill 2020 Online EDV Form. So the interested can fill 2020 Online EDV Form from here.
Online EDV 2020 Application form is available here.
2020 Online EDV Form Easy Steps
DV lottery is the dream of many Nepalese. So to give the information about 2020 Online EDV Form we are here. This year DV lottery will start from the 3 October. This notice is given by American embassy Kathmandu. So we suggest all the interested people to be in touch with us.

2020 EDV Starts From October 3 2018 
State government has announced some slight changes on the online DV lottery form. Here are the new rules for EDV 2020. So you must follow all the rules strictly. The application forms not fulfilling the rules will be discarded.
Every year thousands of applicants are being discarded due to this reason.
It is very easy to fill online edv form via your computer. If you have internet facility then you can easily fill the online edv form. The following are the steps to fill the online edv form.
Go to official website of state government.
The official web site of state government is dvlottery.state.gov.
Fill all the details carefully.
Check the personal details before submitting it.
Make online checking of the photograph before submitting.
It is very important to give correct size photograph while filling online DV form. So for this purpose you can make online checking of DV photograph. As mentioned above year thousands of DV lottery forms are being disqualified.
Hence we strongly suggest providing correct size photograph while filling online dv lottery form.
EDV 2020 Winner Name List
As soon as state government publishes the dv lottery result we will inform you. So be in touch with us for the dv result. At the same time we give the name list EDV 2020 winners in this page. If you have the name list of dv winners from your locality please inform us.
EDV 2020 Deadline 
DV 2020 begins from 3 October 2018 and last up to 6 November 2018.