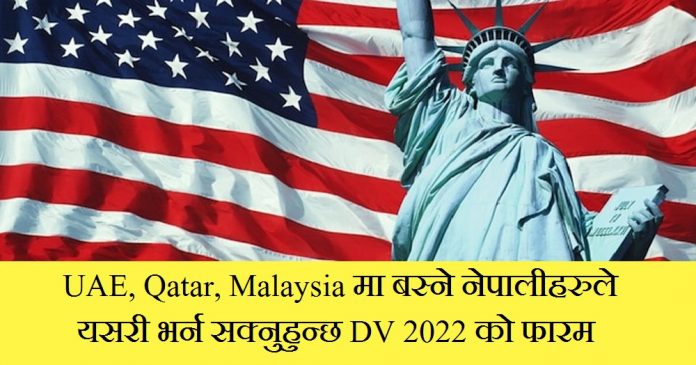 DV 2022 Online Registration is now open. Here we provide the process for DV 2022 from UAE Qatar and Malaysia.
DV 2022 from UAE Qatar and Malaysia
All the migrants from the eligible countries currently living in those countries can apply for the diversity visa lottery 2022. So, for this read all the application procedures given over here. Sometime people just skip the article which leads to disqualification of your dv application. Well now here we go one by one for each country about dv application.
The state government has published one notice for dv 2022 last Tuesday. According to the notice diversity visa lottery 2022 begins on Wednesday 7 October 2020 and ends on 10 November 2020. So we hereby would like to inform all the interested candidates of dv lottery to do accordingly.
Some New Rules on DV 2022
The valid passport for the principal applicant is mandatory as it was last year. Next important notice is that two countries are in the list of ineligible nation for this year. These two countries are Hong Kong and Honduras. So the people of these two countries cannot apply for the diversity visa lottery.
UAE is the major destination of migrant works from south Asia. Therefore there are millions of Nepali employees working in different sectors. These people can apply for the EDV 2022. It does not matter where you are living now but it matters where you were born for the DV application.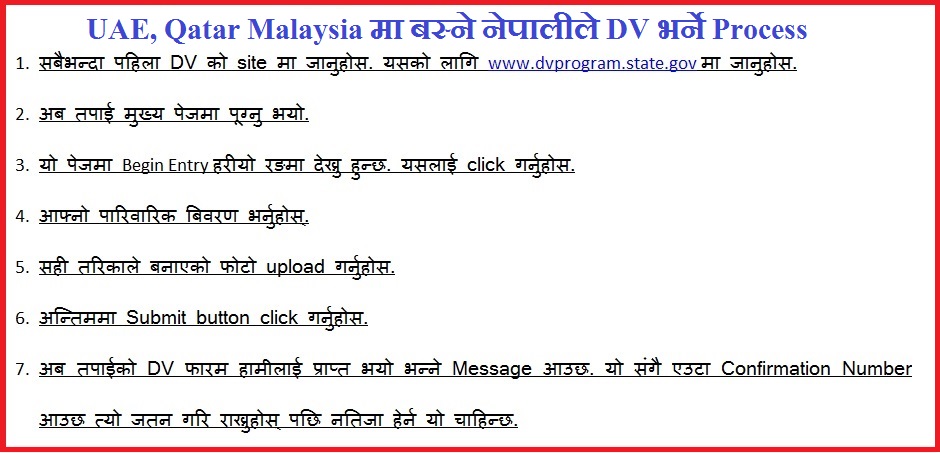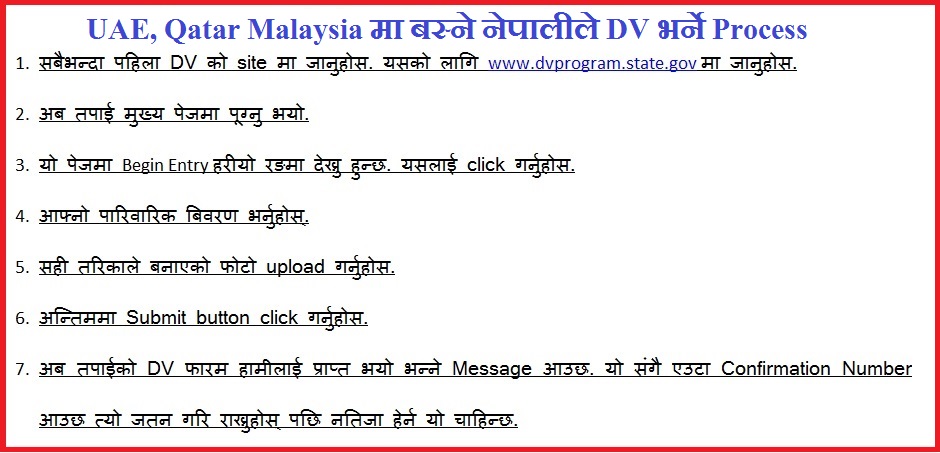 Follow these steps for DV Registration from UAE
First of all go to www.dvporgram.state.gov. it is the official site of state government for dv application.
Now there you can find in green button mentioned Begin Entry. Click on this button.
Then you will reach the main page of dv application.
Here you have to fill the family details. Everything you find clear while filling the form.
Supply the correct size photo in the required area. This photo you have to prepare before starting the online registration.
Now once you are asked for final revision of your application form. Once more check it properly.
Finally submit the online form.
Now you will get the successful message with the confirmation number. Print this page if you have printer otherwise save it in your computer.
During this process if you have any confusion contacts us. Our team is always happy to answer your questions.
How to Apply DV Lottery from Qatar?
The online DV lottery application from Qatar is also similar to UAE. Just you have to select your current location in Qatar instead of UAE. Beside this there is no any new change. However you can see our previous articles on DV application from Qatar.
DV 2022 Application form Malaysia
The next major destination for Nepali migrant workers is Malaysia. There are thousands of Nepali migrant workers in Malaysia. Hence looking at this situation we are here to give the online DV lottery application from Malaysia.
So read this application procedure carefully. We have one piece of application steps in Nepali language.
If there is any question in your mind about the dv lottery application feel free to forward it to us.
DV 2022 Result
The state government will publish the DV 2022 result in 10 May 2021. So, all the EDV 2022 applicants can check their result using the confirmation number on or after this date. Most important thing about the dv lottery is that state government never informs you by any means about the DV result. Hence you have to check your result yourself.
Fake Activity on DV Result
Well sometime you may receive the email stating you won the DV lottery. It is completely fraud. This group people can also ask for few dollars for the processing cost.
Never go after such activities. There are several such incidents in Nepal. Many people are being cheated by such fake group of people. Therefore never share your email, password and confirmation number to anyone.