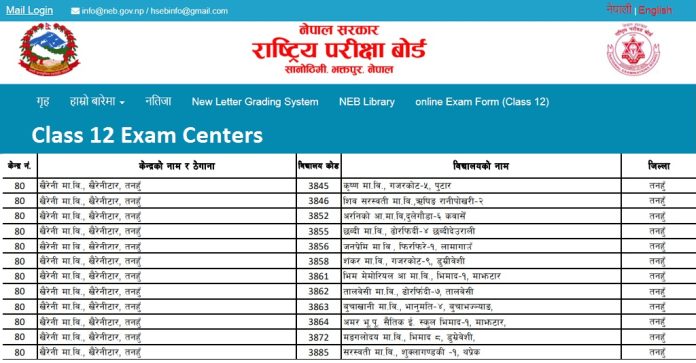 National examination board has published Class 12 Exam Centers. So, students can check their exam centers from this page.


The retake exam for the grade increment has published. So each student can find their exam centers from the official page to the examination board. Just follow the NEB official page for more details about it.
Class 12 Exam Centers
National Examination Board finalized the exam centers. NEB is going to give the grade increment exam for grade 12. This exam will hold for two days. The exam will take place on Magh 2 and Magh 3. Here are the exam centers for all the students.
The board is in the final stage to publish the exam routine for class 12. This year NEB is working to conduct the exam outside the home centers. Last year due to pandemic the class 12 exam was held in their own schools. This did not give fair evaluation of the students.
Hence this exam the exam will hold in the stipulated exam centers only.
TU CMAT Questions
Just after class 12 students have to choose the best faculty for the university. If you are thinking for the management faculty here we have entrance exam questions. This may help you a lot for the entrance exam preparation.
Beside this we have several models questions. This includes MBBS and Engineering entrance questions. Details about this you can read and learn from our previous articles.
SEE 2078 Exam Routine
At the same time NEB will publish the secondary education exam time table by the next week. There was unwanted rumor about the SEE exam. But, now students and parents are well informed. There will be SEE board exam as usual this year too.
Best Scholarship for Abroad Study
Selection of the college and faculty is important for the abroad study. Hence we suggest you to take online counseling from our experts. It is completely free. Just give your details in the comment box below. we will contact you guys for further inquiry.