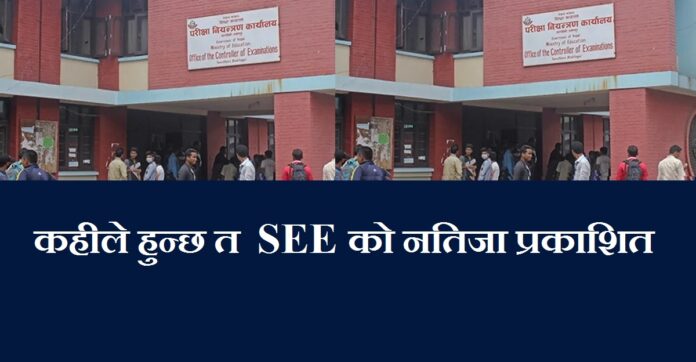 Check SEE 2078 Result with Grade Sheet from here. The office of the controller of examination publishes the Secondary Education Exam SEE results.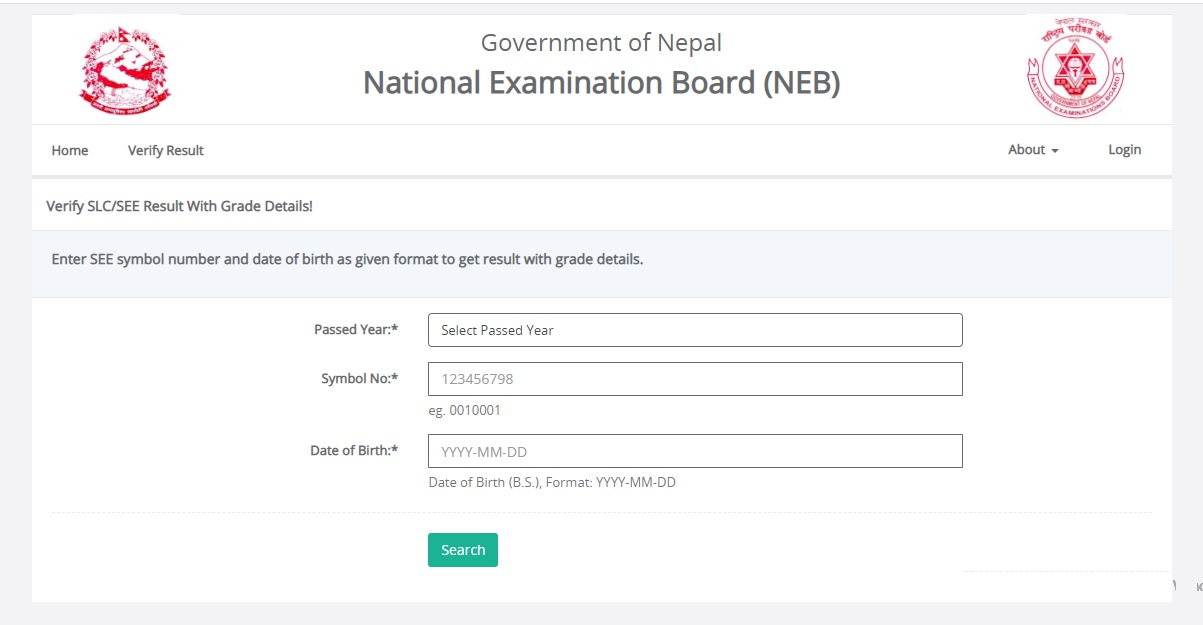 Check SEE 2078 Result with Grade Sheet
Are you having problem while getting online SEE exam result? Well, now you are in correct destination. Just get the step by step process for online SEE exam results. National examination Board NEB is the Nepal government's body for all kinds of schools level board exams.
How to get Online SEE exam 2078 Result with Mark Sheet?
Students can view SEE exam online result by different ways. Hence here we give some important methods to Check online SEE exam results 2078. Just follow these steps to look online SEE exam 2078 results.
Go to see.ntc.net.np
Enter all the required details.
Supply the exam symbol number
Give your date of birth
Finally submit the details for the online result with mark sheet.
How to View Online SEE Result 2078?
The next method to get online SEE result is sms system. Basically students away from the internet facility and devices can find it useful. Like you do not have smart phone nor you are in the Wi-Fi zone.
The office of the controller of examination sanothimi Bhaktapur works for class 10 board exam i.e. SEE exam.
First of all go to the message box in your mobile phone.
Type SEE give space type your exam roll number with alphabet.
Now send this message at 1600
SEE Result by 10 am Today
The exam committee meeting is now going on. This board meeting will finalize the SEE 2078 result. As soon as the meeting will over the result link will be public. At that moment students and parents can get the online SEE exam results via different ways.
How Can I Get SEE Exam Online Grade Sheet?
These two things are different. Like to obtain online SEE exam result is one part. Whereas getting SEE exam result with grade sheet is next part. Hence you must be clear about it. Either you are looking for SEE exam result only or result with mark sheet or grade sheet.
Easy way to get Online SEE Result 2078
We have been working on SEE/SLC result for last 8 years. So, the experience tells that the best way to get online secondary education exam result is Nepal Telecom result website. It is see.ntc.net.np.
It has strong server. Hence there will be no problem while loading the page.
If we talk about Nepal government official websites they have weak server. Hence during the result day they are generally over busy. Hence most of the government sites get down. It may sometime kill the time of students.
Fastest Way to Check SEE Online Result
So far we know the fastest way for SEE exam online result are websites. There are so many websites providing the online result of SEE exam. Just few days before the result publication national examination board publish the list of blogs working for the online result. We will make that list available in this page.
Quick SEE online Result for 2078
SEE exam determines the future of the students. Hence parents are also much curious to look SEE exam results. Beside this relatives in the abroad are also interested about the Nepal SEE exam result. It is very much awaited result in Nepal.
When the examination board publishes the result all the students and parents try to approach some government websites for the result. But due to poor web hosting they get down due high traffic. In such situation students and parents are found panic.
Therefore gbsnote.com can be the best option in such situation.
SEE Online Result in One Click
You can have a look on SEE exam result in a single click. Here are the steps for the fastest and easiest method to get online SEE exam result with grade sheet.
SEE Exam Result by Today
NEB is going to publish SEE exam result by today. The examination board is going to publish the result very soon. As soon as the media announce the result it will be available in online media. There will not be result publication in printing media.
New Grading System from this year
National examination board is going to implement new grading system for both SEE and SLC exam. The board exam at the end of class 12 is SLC. According to this new system students must get minimum of 35 percent in theory. Similarly, the pass marks for practical is 40 percent.
Hence if a student is not able to get this minimum pass marks then he or she will be none graded. It is called NG in the grade sheet.
Looking at this new system the probability of the students being NG seems high.
SEE New Grading System
Here are some salient features of secondary education exam and class 12 new letter grading system.
Pass marks 35 percent in theory
40 percent is pass mark for practical
Students must get pass mark individually in theory and practical
Effective from academic year 2078.
Beside this if you have any problem while getting online SEE exam result contact us. We provide all kind of service for SEE students.
Class 11 Entrance Questions
Soon after SEE result students have to prepare for entrance exam. However the grade 11 entrance preparations begin just after SEE exam is over. Here we have entrance exam model questions. These questions are prepared by the experienced teachers of renowned schools in Nepal.
How to Face Class 11 Entrance Exam?
These are the special tips for students facing entrance exam. It is for all kinds of entrance exams. Therefore we suggest all the students to keep these things in mind.
Collect all the essential materials in the previous day.
Check your entrance card before leaving for the exam.
Report the exam hall in time.
Never be panic for the exam.
Answer all the questions which you know the best.
Try to answer the doubtful questions at last
Never leave any questions unanswered.
Finally we would like to express very best of luck to all the students looking to Check SEE 2078 Result with Grade Sheet.