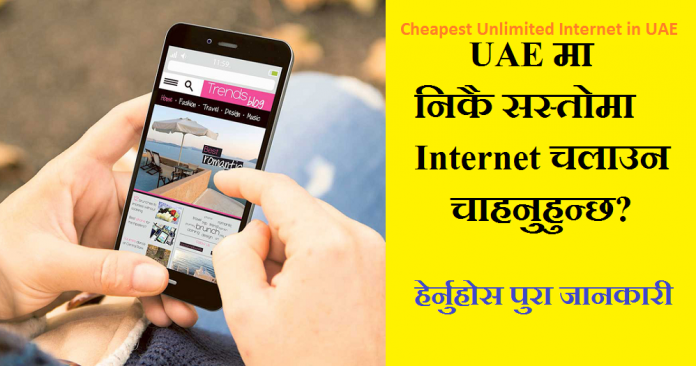 Are you looking for Cheapest Unlimited Internet in UAE? Well here we give the cheapest home internet plan. So by activating this plan you can enjoy free call and unlimited internet.
Internet Service Provider in UAE
There are two internet service providers in UAE. They are Du and ETISALAT. But there are many options in mobile data packages. Either you are using prepaid or postpaid or you are tourist or resident it matters a lot.
Monthly Data Pack for Mobile Users
The monthly data pack for prepaid Du users is as follow.


Cheapest Unlimited Internet in UAE
Here is the cheapest plan for Unlimited Internet in UAE. So by activating internet in your SIM you can enjoy unlimited free internet. There are many migrant workers in United Arab Emirates so this plan will help them to be in touch with their family with minimum cost.
How to Activate Unlimited Internet in your Mobile Phone?
Mobile phone is very easy to use internet. Similar it is handy as well. So by taking the package as your choice you can enjoy unlimited internet in your mobile phone. Here are the different plans and package for the users.
Du Home Internet Plans
It has different packages for different users. So you can choose the plan that is best for you. Now we discuss on different plans of Du Home Internet Plans.
Du Home Lite Starter
It is the basic package. In this plan the internet speed is 10 MBPS. So if you do not need high speed internet it is enough to run messenger and other social media sites. At the same time you can enjoy YouTube videos in this package. The cost for this package is AED 269 per month.
The installation is free with more than 130 channels. The land line call is free within UAE. If you want to know more about it you can call at +971524871965.
Beside this there are many other packages with high speed internet and with heavy cost.
ETISALAT
The next internet service provider in Dubai is ETISALAT. The cost for different packages of this service provider is as follow.
Etisalat eLife packages are as follows:
10 Mbps for AED 299 per month
20 Mbps for AED 399 per month
50 Mbps for AED 599 per month
People are Interested On: