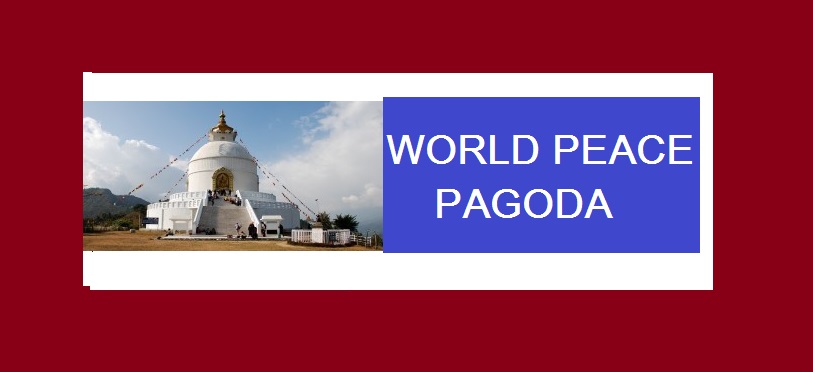 The world peace pagoda is built in the then Pumdi Bhumdi VDC of Kaski district. Which has a great importance.  It was built by the Japanese organization Neppojan Mayahogi. It is at the top of hill. While it is the symbol of peace. This pagoda gives the message to remain in peace and calm at any kind of difficulties.
Therefore it is the symbol of patient, tolerance and diligence of Buddhism. The construction of world peace pagoda in the birth place of Gautam Buddha itself is more important to all Buddhists and the whole world. The world peace pagoda has increased the flow of Buddhist pilgrimage in Pokhara. Beside this there are many other Monasteries and pagoda in Pokhara. Pokharali people are very glad to have this pagoda in Pokhara.
World Peace Pagoda in Pokhara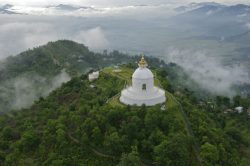 Pokhara is surrounded by green hills and lakes. There are  snow white mountains in the north of Pokhara. So it is a paradise itself. In addition to this the pagoda has increased the prestige of Pokhara. It is a valuable point of visit for Buddhist pilgrimage. Not only Buddhists, people from other religions also visit this place every year.

The construction of this pagoda was started in 2030 BS. But due to political condition of the country at that moment it was not possible to construct. Many unfavorable political conditions in the country delayed its construction for two decades. The then Prime Minister Girija Prasad Koiral laid down the foundation stone of it in 8 Jestha 2050 BS. Then its construction was completed comfortably.
There are 38 steps to climb up from the ground level to reach the pagoda. It takes 108 steps to go round the pagoda. There are the statues of Lord Buddha donated from different countries. In the pagoda there are four statues of Buddha. Many Japanese generous people help for its construction.
Many Buddhist monks help and support it. Among them the contributions made by Japanese monk Moriako Sony and friends is more impressive. Hence people of Pokhara would like to salute these helping hands for their selfless help and support. Pokharali people will never forget this help and support made by Japanese people. Finally we like to invite you all to visit this pagoda.