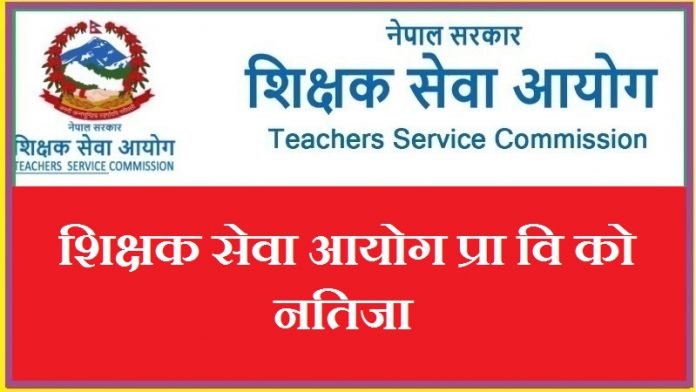 TSC Nepal Primary Result is now public. Here is the complete TSC Nepal Primary Result of all districts.
All 77 Districts TSC Primary Level Results.
SN Zone Districts Headquarter
1 Taplejung Taplejung
2 Mechi Panchthar Phidim
3 Ilam Ilam
4                                            Jhapa                                  Chandragadi
5              Koshi                     Morang                               Biratnagar
6                                              Sunsari                               Inaruwa
8                                              Sankhuwasabha               Khandbari
9                                              Bhojpur                               Bhojpur
10                                           Terhathum                         Terhathum
11 Sagarmatha Okhaldunga Okhaldunga
12 Khotang Diktel
13 Solukhumbu Solusalleri
14 Udaypur Gaighat
15 Saptari Rajbiraj
16 Siraha Siraha
17           Janakpur              Dhanusa                              Janakpur
18 Mahottari Jaleswor
19 Sarlahi Malangwa
20 Sindhuli Sindhuligadi
21 Ramechhap Manthali
22 Dolkha Charikot
23  Bagmati         Sindhupalchauk                Chautara
24 Kavreplanchauk Dhulikhel
25 Lalitpur Lalitpur
26 Bhaktapur Bhaktapur
27 Kathmandu Kathmandu
28 Nuwakot Bidur
29 Rasuwa Dhunche
30 Dhading Dhadingbeshi
31 Narayani Makwanpur Hetauda
32 Rauthat Gaur
33 Bara Kalaiya
34 Parsa Birgunj
35 Chitwan Bharatpur
36 Gandaki Gorkha Gorkha
37 Lamjung Beshisahar
38 Tanahun Damauli
39 Syangja Putali bazar
40 Kaski Pokhara
41 Manag Chame
42 Dhawalagiri Mustang Jomsom
43 Parwat Kusma
44 Myagdi Beni
45 Baglung Baglung
46 Lumbini Gulmi Tamghas
47 Palpa Tansen
48 Nawalpur Kawasoti
49 Parasi Parasi
50 Rupandehi Bhairawa
51 Arghakhanchi Sandhikarka
52 Kapilvastu Taulihawa
53 Rapti Pyuthan Pyuthan
54 Rolpa Libang
55 Rukum Purba Musikot
56 Rukum Paschim Muskikot
57 Salyan Salyan
58 Dang Ghorahi
59 Bheri Bardiya Gulriya
60 Surkhet Birendranagar
61 Dailekh Dailekh
62 Banke Nepalgunj
63 Jajarkot Jajarkot
64 Karnali Dolpa Dunai
65 Humla Simikot
66 Kalikot Manma
67 Mugu Gamgadi
68 Jumla Jumla
69 Seti Bajura Martadi
70 Bajhang Chainpur
71 Achham Mangalsen
72 Doti Silgadi
73 Kailali Dhangadi
74 Mahakali Kanchanpur Mahendranagar
75 Dadeldhura Dadeldhura
76 Baitadi Baitadi
77 Darchula Darchula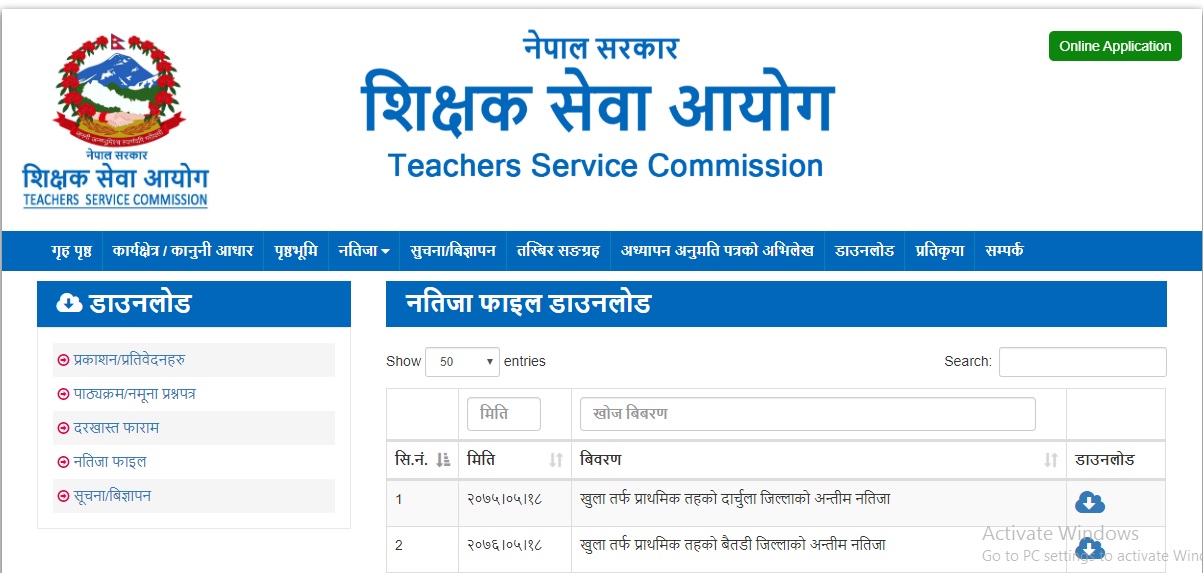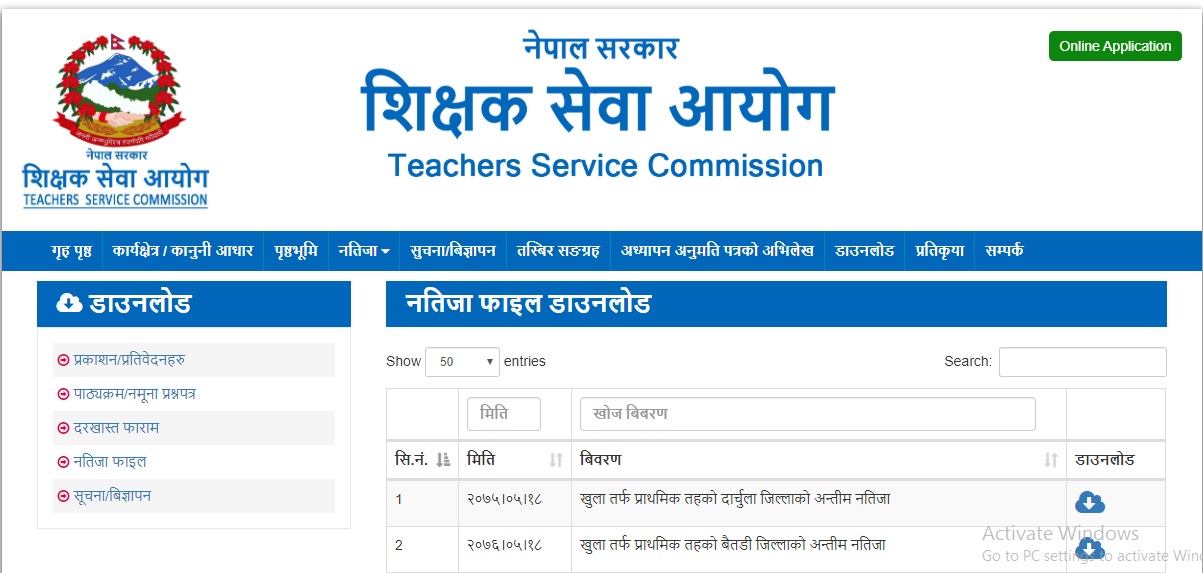 TSC Primary Result
Here is all districts primary level TSC result. So choose the district for your TSC Result.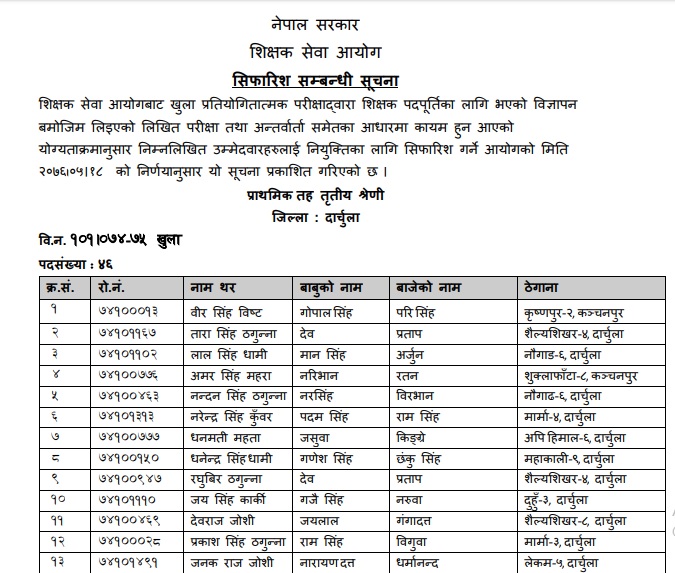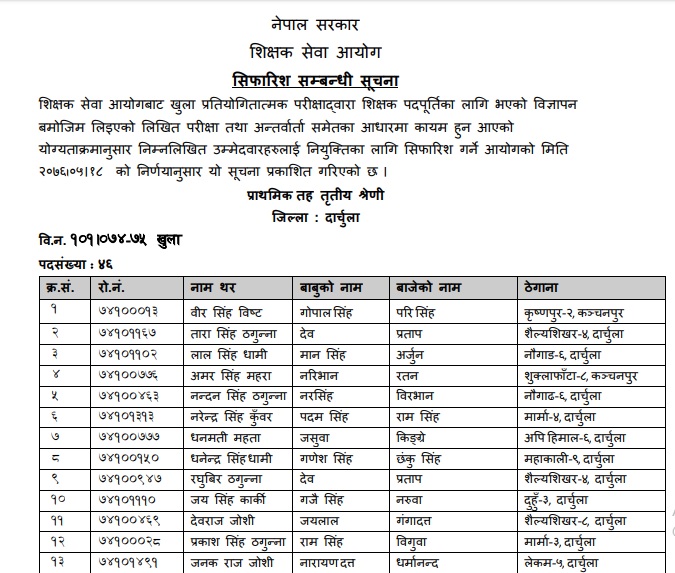 TSC Nepal Primary Result
Teacher service commission Nepal has started to publish the primary level result. So we will be giving the final result of primary level open competition.
Nepal government has asked for nearly ten thousand vacancies this year.
The final result of Primary level is now almost ready to publish. Teacher service commission Nepal is in the final stage of result publication.
According to the source the final revision of the documents is going on. As soon as the documents verification is over TSC Nepal publish the result.
How to Check the Final TSC Nepal Result
The result will be available in this page as well. On the other hand you can get the online TSC result in the official website of teacher service commission Nepal.
So for this you have to log in www.tsc.gov.np and go for the Natija.
All 77 Districts Primary Level TSC Result
As you know the primary level teacher selection is within the district. It means teacher for one district will not posted in the other district.
Teacher service commission Nepal is going to publish the final result of Primary level teachers. Nearly fifteen thousand candidates are waiting for the final result. There are about ten thousand vacancies in Primary level.
Final Result of Primary Level
As mentioned above teacher service commission Nepal is going to publish the Primary Level Result soon. Here we will update the list of selected teachers. If you have any questions about the TSC Nepal you can contact us.
Posting of TSC Nepal Selected Candidates
According to the source the teacher service commission Nepal starts the posting of the Primary level teachers by the end of Dashain festival.
We provide all kinds of information about teacher service commission Nepal. So like our social media official page for all kinds of TSC Nepal updates.