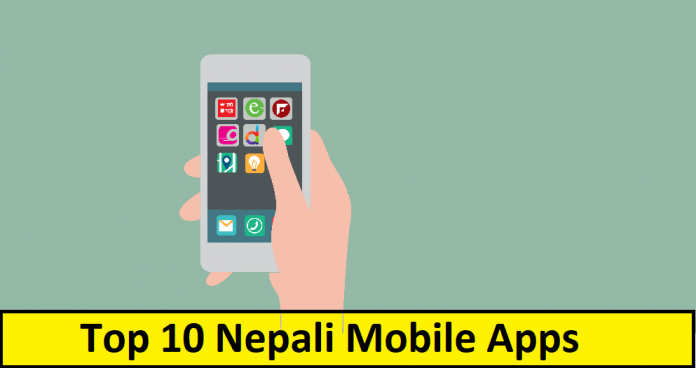 Here is the list of Top 10 Nepali Mobile Apps. Internet users are increasing day by day. So if you are the internet user then mobile application makes your life simpler.
Top 10 Nepali Mobile Apps
The number of mobile SIM card is more than the total population of the country. It shows that there are so many mobile phone users in Nepal. The smart phone is use lees until you have internet in it. At the same time your internet connected mobile is use less without mobile applications.
10 Mobile Apps You Must Have in Your Smart Phone
Now let us discuss one by one about the most popular mobile apps in Nepal. In the present situation of corona virus pandemic, the use of such apps is more important. You can receive your remittance via your required mobile. Similarly, you can send money from one bank to other remaining at home. It is not so easy to reach to bank in such pandemic.
Hamro Patro
It is famous Nepali mobile application. It gives Nepali calendar. Beside Nepali calendar you can enjoy many FM radio stations. Not only this there are many features with this application. So if you just download it you can easily use in both in android and iOS version.
This app help to save money while travelling to Qatar.
Esewa
Well esewa is the popular online wallet in Nepal. Using this app you can make online payment in different private and government bills. Similarly, you can purchase air ticket using this application. On the other hand, you can receive your payment in your esewa account. This amount you can transfer to you desire bank account as well.
Tootle
This is ride sharing app. It means if you want to ride the two wheeler on the shared basis you can find it by using this mobile application. It is similar to Uber app.
Foodmandu
The next popular mobile app to make online purchase from different restaurants in Kathmandu is Foodmandu. By using this application, you can make order from your home. The hot and delicious food items arrive at your door step.
Foodmandu delivers your favorite food at your door steps.
Daraz
Daraz is the next online shopping mobile app in Nepal. There are several items for sale in Daraz. There are two options for the payment of your goods. Either you can make online payment using different online wallets like esewa or you can make payment after receiving the items.
The number of user of this mobile app is increasing day by day.
Hamro Nepali Keyboard
This app provides you the facility to write in Nepali font in your mobile phone. You may want to reply your message in Nepali font to your friend and relatives. In such case you can use it. People wonder about writing in Nepali in mobile phone various apps. It is due to this application.
NetTV Nepal
It is live TV watching application. It is the Nepal oldest video and TV streaming app. So you can watch different television show live in your mobile phone using this application.
Beside this there several Nepal government mobile application like Nagarik App. This application provides citizenship certificate details. Similarly, you can get the employment provident fund statements. Citizen investment trust detail is also available in this app.