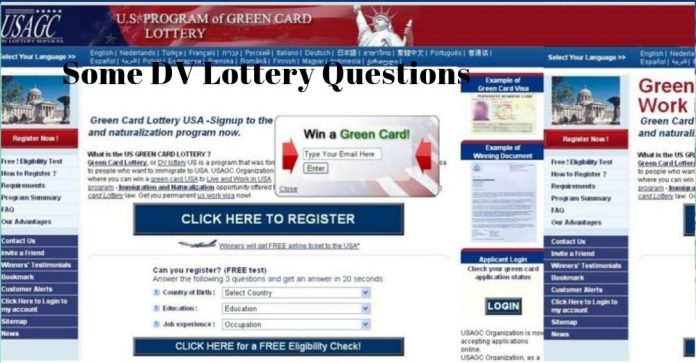 Some DV Lottery Questions which always comes in mind are here. So we hope that you will get this set of Some DV Lottery Questions useful to you.
How to Fill DV Form Correctly?
Well first of all read this article properly. Here we have discussed how to complete the online diversity visa lottery form correctly.

What is American Green Card?
Green card is an official document to live and work in USA as a legal resident. It is a permanent resident card in America. However you have to renew it every five years unless you get citizenship in America.
There are many ways to get the Green Card in America but DV lottery is the easiest one. This diversity visa also known as Green Card lottery.
What is the Diversity Lottery?
The state government issues nearly fifty thousand immigrant visa based on random selection. People from the eligible countries can take part in this lottery. Basically those countries having low rate of immigration to USA are eligible for this DV lottery.
So if you want to learn more about eligible countries check at www.gbsnote.com/dv eligible countries.
---
When the DV Lottery starts?
Normally the online DV lottery application registration starts from the first week of October and ends at the second week of November. The online application for DV 2021 is likely to start from 2 of October 2019.
However the state government has not yet released the official notice about it. But we suggest you to apply the dv lottery as early as possible.
Why the lottery called DV-2021 starts in 2019?
The winner of the DV lottery 2021 can enter USA only in 2021. Hence though you fill the EDV lottery in 2019 it is called DV 2021. Therefore it seems like this.
Frequently asked Some DV Lottery Questions
Here are some more frequently asked dv lottery questions.
How many visas will be issued in DV-2021? How many people will become winners?
In 2020 3696 Nepalese got visa under dv lottery scheme. Generally the state government takes about fifty thousand migrants under this lottery program. Therefore this year also the number of visa will be similar to the previous year.
How many DV-2021 visas will be issued for each region and eligible country?
The number of migrants under dv lottery visa depends on the ratio of people living in USA from that country. In simple sense if the people of certain under migrant visa are more in America that country will certainly get less number in the dv lottery selection.
Here we provide the step by step process to fill dv lottery application form.
Where I can fill the form for participating on Diversity Lottery?
Well it is easy to fill the dv lottery from yourself. So if you are willing to fill the dv lottery form yourself, first of all prepare the dv photos. Then log in to the official page of stat government to fill the dv lottery form.
What is my chance to win?
It is completely a random selection program. Hence each applicant of dv lottery has equal chance to win the lottery.
---
What is the most important in the lottery form?
The most important thing while filling the dv dv lottery application is the size of photograph. Every year thousands of dv lottery application disqualify due to wrong size photograph or blur background.
What else can I do to win?
There is no other ways to win the dv lottery. So if somebody is asking for money for the lottery that is fraud. Always remain safe from such fake activities.
---
Is there an age requirement for the Green Card Lottery?
There is no age requirement for the DV lottery. But you must have completed high school level study to be eligible for the lottery.
What level of English should I have?
You do not need special level of English but you must be able to read and write in English medium.
Can I enter the DV program if I live in the US?
Yes you can take part in this lottery program if you are already in America.
Can I take a part if I already have a US visa?
Sure if you have other type of US visa still you can participate in dv lottery program.