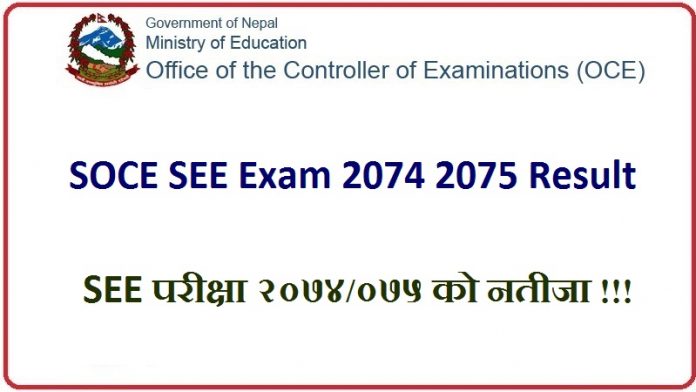 SOCE SEE Exam 2074 2075 Result is now public. The office of the controller of examination has published the SOCE SEE Exam 2074 2075 Result today morning. So the students can check the SEE result from this page.

SOCE SEE Exam 2074 2075 Result
The secondary education exam which is also known as SEE exam. This year there were nearly five lakhs students appearing the board exam. This year nearly eighty thousands students are scoring the GPA grade above3.6.  According to the notice given by the examination controller office there will be chance exam to improve the grades for maximum two subjects.
How to Check SEE Exam 2074 2075 Result?
There are several ways to find the online SEE result. Here we discuss about them in brief. If you are in the internet connection then you can check the result by website. At the same time if you are away from the internet facility then you can use sms or IVR service. Let us discuss them one by one in detail. Well first here we talk about the websites.
The official website of the examination controller office is www.soce.gov.np. Here you can check the online SEE result. Beside this there are many other private and government web pages for the secondary education exam result. At the same time gbsnote.com also helps you to search the online SEE result.
---
---
Nepal telecom GSM mobile and land phone can be used for sms and IVR service to obtain the SEE 2075 result. We have talked in detail about it in our previous article. So if you are the new visitor in our website we suggest you all to check this article.
Nepal Telecom as well as Ncell both provides the sms service to get the SEE 2074 2075 online result.
Finally we would like to express best wishes to all the SEE candidates for their grand success.
Recommended for you: Online SEE Examination Result