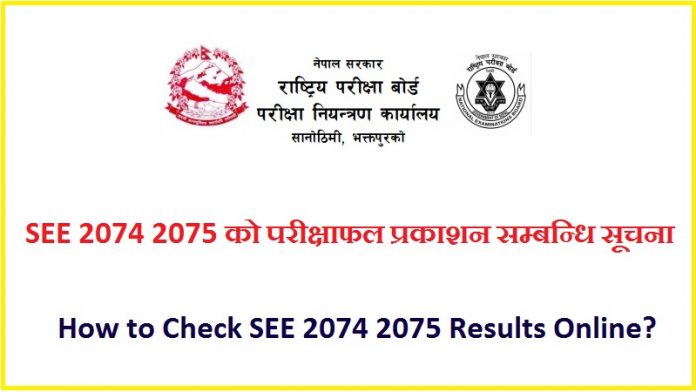 SEE 2074 2075 Results is out now. National Education Board has published the SEE 2074 2075 Results today morning. This year nearly five lakh students were waiting for SEE 2074 2075 Results. Here we provide the steps to find online SEE 2074 2075 Results.
How to Check SEE 2074 2075 Results Online?
There are several ways to find online SEE result. We have talked about it in our previous articles as well. So the different ways to find online SEE result are websites, sms and IVR service. We provide here useful links to find SEE online result. Therefore we hope these links we provide you easy way to check the result.
The official websites for SEE results are as follow.
www.see.ntc.net.np it is the website of Nepal telecom. Here you can check the online result just entering exam symbol number and date of birth.
www.soce.gov.np It is the official website of the office of the controller of examination Sanothimi Bhaktapur. SEE students can check their result via this website.
Beside this there are several other private websites providing SEE result. So students can check the result from these private websites as well.
Nepal telecom provides sms service to check online SEE result via SMS service. So students can check the SEE 2074 result using Nepal Telecom PSTN or mobile phones. Therefore to find SEE results just send sms at 1600 typing the symbol number. Dial 1600 and follow the instruction given there to check SEE result. This is the easiest way to find the SEE 2074 result in the absence of internet.
Beside this if you have any confusion please leave your queries in the comment box given below. Our expert team will try to solve your problem as soon as possible.
Finally we would like to extend our best wishes to all the SEE 2074 students.
NB: We will upload the SEE 2074 result here after national education board publishes it.