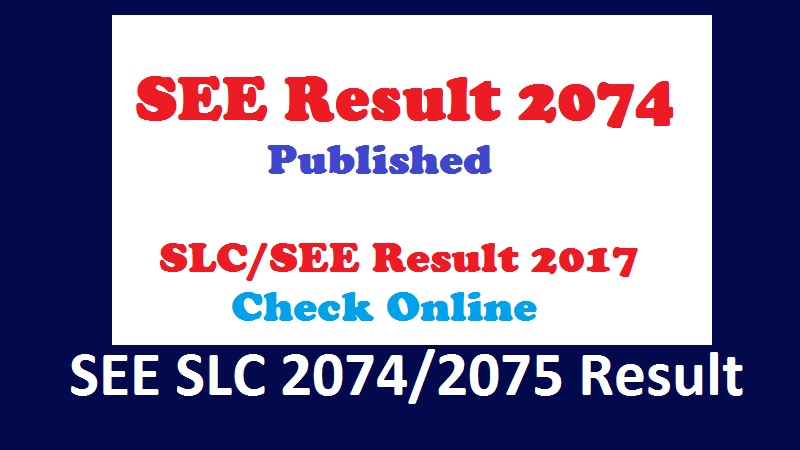 SEE SLC 2075 Result is out today. So you can download the SEE SLC 2075 Result with grade sheet over here. Last year also we have given the SEE result in this site. SEE SLC 2075 Result.

Well to check your SEE result you need the exam symbol number and date of birth. There are several ways to find the SEE SLC 2075 Result. Hence we talk in brief about these methods. Some of the major ways to find the result are as follow.
The official website of Nepal telecom, Nepal telecom gives the SEE SLC 2075 in its website.
And see.ntc.net.np is the site for SEE result.
Here you have to enter your exam symbol number together with your date of birth.
SEE SLC 2075 Result
Similarly the SEE SLC 2074 2075 is also available in the website of ministry of education. The official website is www.moe.gov.np. Therefore you can check the result via this site as well. Sometime due to high traffic this site may not work. So for this purpose you can use IVR service of Nepal telecom.
SLC in Grade 12
The recent amendment of education act has made the new provision regarding SLC exam. Now according to the new provision there will the provincial level exam at the end of grade ten. The grade eleven exams will be conducted by the school itself and school leaving certificate exam will be at the end of grade 12.
Grade 11 will not have board exam since academic year 2075. The education act has made this provision. So the grade 11 exam will be like other internal exams of the schools. This exam system can make the students more reluctant for the exam preparation as it will not be national level board exam. So whatever will be the effect of such changes students are compelled to face them as there is no other ways.