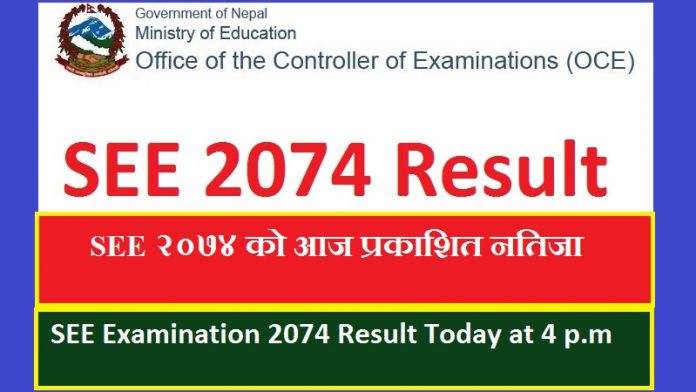 SEE Examination 2074 Result is going to publish by 4 p.m.  The examination controller Ambika Prasad Regim informed us about it. So here we give the step by step process to find the online SEE Examination 2074 Result.
SEE Examination 2074 Result Today at 4 PM
According to the examination controller there is board meeting for the SEE 2074 result publication today at 3 in the afternoon. Hence we suggest all the students and parents to remain with us for the online SEE exam result. We have several articles about the upcoming SEE result. Therefore we are not going to repeat the same over here. So we just provide the links to reach there.
SEE Examination 2074 Result is online now. So, no more the students have to wait for the SEE result. You can obtain the SEE exam grade sheets here. To get the SEE grade sheet you have to enter your exam symbol and date of birth in the dialogue box obtain in the official website of SEE online result.
These are the official website to get the online SEE exam 2074 result. The office of the examination controller has recently published the list of websites to give the online result. So we request all the students and parents to check the online SEE result via these web portals.
www.soce.gov.np – This is the web portal of examination controller office.
www.see.ntc.net.np – The official website of Nepal Telecom for SEE online Result.
www.neb.gov.np – It is the National Examination Board Nepal web page for the SEE result.
The next challenge for the SEE graduate students is to prepare the grade 11 entrance exam. So we give the model questions for grade 11 entrance exam. Last year also many students were able to get seat in top plus two colleges of Nepal with the help of the question bank available here. So this year also we suggest the SEE graduate student to make the full utilization of this collect.
Finally we would like to express our best wishes for all the SEE students to their upcoming result.