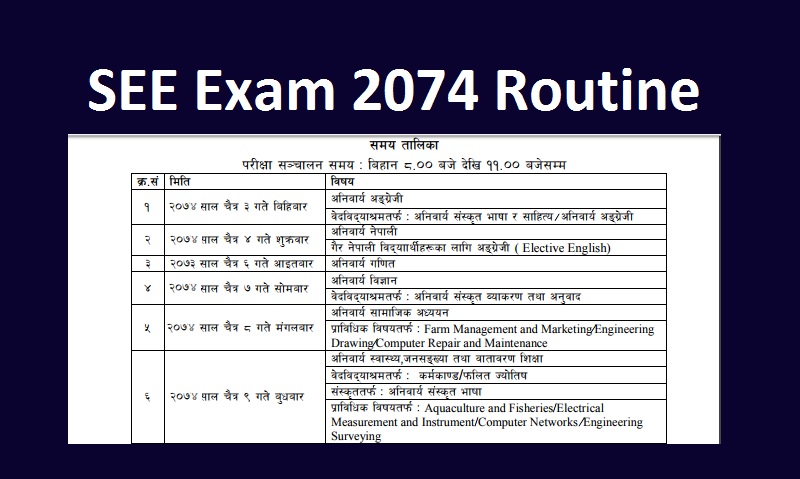 SEE Exam 2074 Routine is out. So you can download the SEE Exam 2074 Routine from this page. SEE exam is the new version of the then SLC exam. But till the date there is no drastic change between SEE and SLC exam.

---
---
Well the SEE Exam 2074 Routine will be attached in this page as soon as the office of the controller of examination publishes it. Nowhere, you have to move to get SEE Exam 2074 Routine. It had been many years that we are working for SEE exam. Most probably national examination board will publishes the SEE exam time table by the month of Magh.
SEE Exam Practice Questions/ SEE Exam 2074 Routine
Here we have almost of subjects practice questions for SEE exam. So in this connection we have a group of experience teachers. This group of teacher prepares the practice questions for SEE students. In this website itself there are several SEE practice questions. These materials are free of cost we do not ask any kind of subscription as well.
Optional is the tough subject among SEE students. Therefore we have collection of most probable SEE questions for optional math. We also have some solved collection of optional math questions. So we hope this will certainly help the SEE students for their upcoming exam.
Basically English medium school's students are found little unaware about the topics in social studies. Among the various topics of social studies they feel hard about the politics and current affairs. Not all the students we mean but some are very much unknown about these topics. Like we have an experience that when a class ten student was asked who is the president of Nepal at that moment she was unable to reply the question.
Hence such students find social studies subject very hard.
On the other hand Nepali medium students find English subject little hard. So this is our attempt to help this group of students. On the top of this if you have any question regarding English subject put forward your question in the comment box below. Our subject expert will give timely reply for your questions.