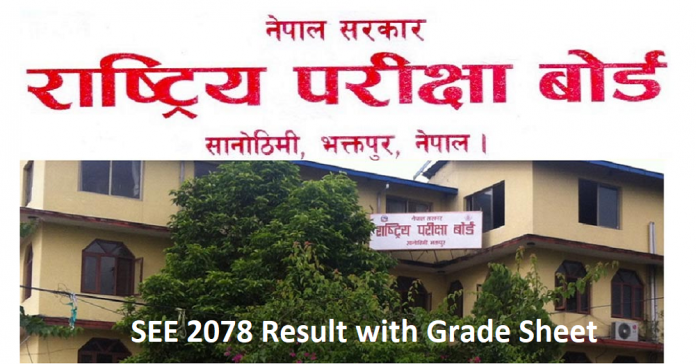 Here is SEE 2078 Result with Grade Sheet. So if you are searching for the SEE result and the obtained grade sheet you can proceed ahead from here.
Get your online secondary education exam grade sheet. Similar to the previous year this year also the SEE result is based on the respective subject teacher's evaluation. However, it is slight different than last year.
Like last year the SEE result was haphazard. It means the result was not so trustworthy as the number of students in overall GPA was more than thousand.
SEE 2078 Result with Grade Sheet
Follow these steps to get the online SEE 2077 result. The two consecutive years 2076 and 2077 batches are internally evaluated SEE batch. It is first time in the history of the then SLC and now SEE exams are being internally evaluated due to pandemic of corona virus.
First of all go to www.see.gov.np or Nepal Telecom official page.
There you find one page to enter the exam roll number and date of birth.
Enter the details carefully and submit it for the result with grade sheet.
During this process if you find any difficulties you can contact us.
Class 11 Entrance Exam Questions
The next step for the SEE graduates' students is to find the appropriate school or college for the grade 11 study. In this matter parents must guide the students properly. It means you do not have to interferes your child but counsel them.
Sample Questions for Entrance Exam
We have many articles about this class 11 entrance exam. So instead of repeating the content here we provide you the link to reach that contents. So if you want to get sample questions for entrance exam follow the link given above.
SEE 2077 2078 Result
The national examination board is planning to publish the SEE 2078 result by the third week of Shravan. So as soon as the result published you will update our readers from this page. Hence remain with us to get the latest updates of SEE result.