Here is SEE 2076 Result in Details. So the students and parents can easily get the SEE 2076 result with grade sheet from this page.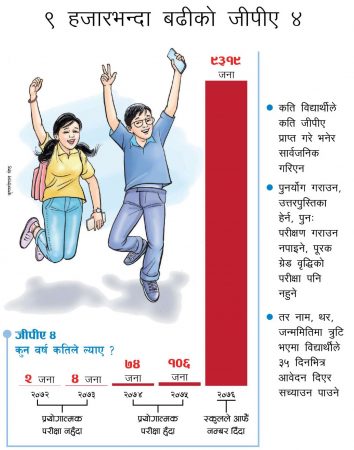 A grade students symbol number.
B+ Students symbol number.
SEE 2076 Result Publishing Today
SEE 2076 Result in Details
The office of the controller of examination has published the SEE 2076 results. As you know well this year schools have made their result themselves. Hence there is no so much excitement among the people about this secondary education exam SEE result.
Errors in SEE Marks Send by the Schools
There used to be many errors in SEE results in the past. It might be due to high number of students. But this year schools have sent the final mark list to the district education coordination unit. Still the result is not error free.
There are several blunders in the result. Like in some cases the marks send by the schools is more than the full marks. Similarly there is mistake in optional subject's marks. Like optional first is mentioned as optional second and vice versa.
Online SEE 2076 Grade Sheet
Download your SEE grade Sheet. It is easy to get the SEE grade sheet. Though this result is already with school but students did not know it. Hence instead of going to school in such unfavorable condition you can get it in a single click.
Frist of all go to the official page of SEE result i.e. www.see.gov.np
Enter your exam symbol number and date of birth in the dialogue box.
Finally submit the detail for the online grade sheet.
This time it is not necessary to send sms for the SEE result. Better you can call your head teacher or principal in the school. They will easily tell all the details of the SEE result. It is because the school administration has prepared the SEE 2076 result themselves.
NTC.Gov.np for SEE result
Nepal Telecom provides the SEE result. So you can get the see result in www.see.ntc.net.np. In this page you can get online SEE result with grade sheet. Similarly if you have any confusion about SEE result you can contact your team.
Finally we would like to express our best wishes to all the SEE candidates of the year 2076.