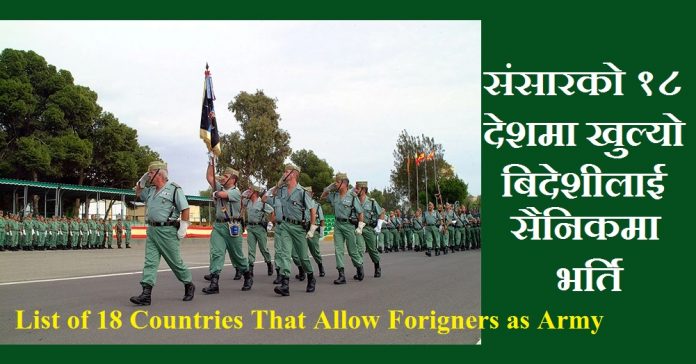 Foreign Citizens Armed Force around the world. Here is the list of countries allowing foreigners in their armed force.
200 Vacancies in Australia
180 Vacancies in Canada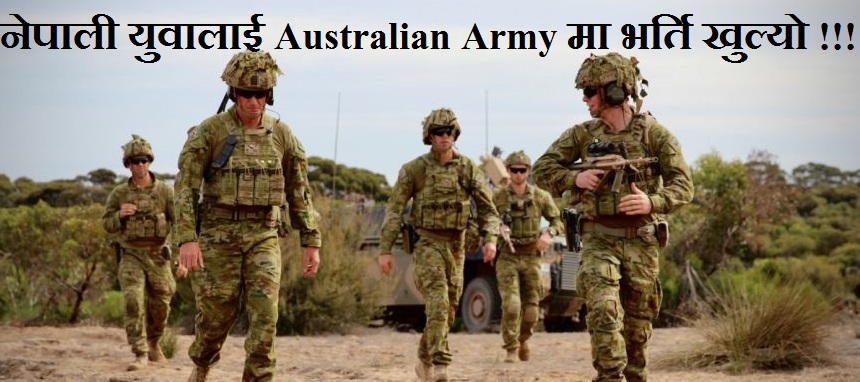 Foreign Citizens Armed Force around the world
Many people have dream to serve as army in the country. They have desire to protect the sovereignty of the country from the front line. So many brilliant students want to join army instead of other technical jobs. But very few people may know that you can join military force of foreign countries.
How to join foreign Army Job?
Hence today we discuss about Foreign Citizens Armed Force around the world. So it gives you the complete knowledge about abroad job in armed force. Every year millions of people in the world apply for the armed force.
It is because in many countries like America and Europe army personal has high respect in the society.
You have heard right. Many countries like India, Britain, USA, France etc. welcome foreigners in their armed force.
1.India
India recruits people from Nepal and Bhutan in their armed force. Similarly citizens of Indian origin from Pakistan, Burma and Sri Lanka can join Indian army.
Likewise refugees from Tibet can apply for Indian army. People of Kenya, Uganda, Tanzania, Zambia, Malawi, and Congo willing to stay India permanently can join Indian Army.
The permanent legal residents of USA can join American army. It means all Nepalese have permanent resident card can join US army.
3.Britain
British army recruits Nepali citizens in their armed force. It has been many years Nepali serving as Gurkhas regiment in British Army. Beside this British Army recruits people from common wealth expects Cyprus and Malta. However people from Cyprus and Malta after living permanently 5 years in Britain can apply for the army.
4.Australia
Australia recruits people of New Zealand in their defense force who are the permanent residents of nation. Similarly people having military experience and willing to take permanent resident of the nation can join Australian armed forces.
So in such case Nepali youth fulfilling the norms can join Australian Army.
5. Canada
All the permanent residents of Canada can join Canadian armed forces. Canada believes that it does not have the security of the nation.
So in this case also all the Nepalese youths having Canadian permanent resident card can apply for army in Canada.
France has separate unit in army for foreign citizens. It is call French foreign Legion. So, all the people having valid passport and clean police report can apply for French army.
We have separate article about it. Hence if you want to learn more about it see our pervious articles.
Hundreds of Nepali are serving as French Army.
7. Israel
All the non-Israeli Jews can join Israeli armed force. Similarly non-Jews having at least on Jews grand parents can apply for the armed force of Israel. More over every adult Israeli above 18 years must compulsorily serve as army.
8. New Zealand
Serving members of American, Canadian, Australian and British army can join New Zealand armed forces. Similarly the people living as permanent resident for more than 5 years can join the armed forces.
9. Belgium
All the European nation citizens are eligible for the Belgium armed force job.
10. Spain
Spain recruits people from ex-Spanish colonies in their armed force. Similarly the Spanish speaking people can also apply for the armed force job.
11.Denmark
All people living in Denmark and having good command in Danish language can apply for armed force job. However the individual must be in process of getting permanent resident of Denmark. For the job you have to apply with written application. Danish army is 400 years old organization.
12.Bahrain
Bahrain also recruits foreigners in army. Basically people from Pakistan and Arabic nation can join the armed force. However the is debate about the Shias and Sunni community in the army.
13. Ireland
Citizens of European economic zone can join Irish army. Similarly other nationalities living more than 3 years in Ireland can join the armed force in Ireland.
14. Luxembourg
People of European Union can join Luxembourg army. But the applicant must be living regularly for at least three years in Luxembourg. It has only 1000 active army in their troops.
15. Monaco
France provides the defense security to Monaco. But Monaco has its small troop for the security of Prince's palace.
16.Norway
Norwegian army recruits people from Iceland in their armed force. It is the bilateral agreement between Norway and Iceland.
17. Serbia
Serbian army was formed in 2006. European Union citizens speaking Serbian language can join Serbian armed force. Similarly the people of former Soviet Union nations are also eligible for the armed force.
18. Vatican City
Vatican City has the smallest size army in the world. It has only one armed force called Swiss Guard. The members of Swiss Guards are Swiss Catholic.