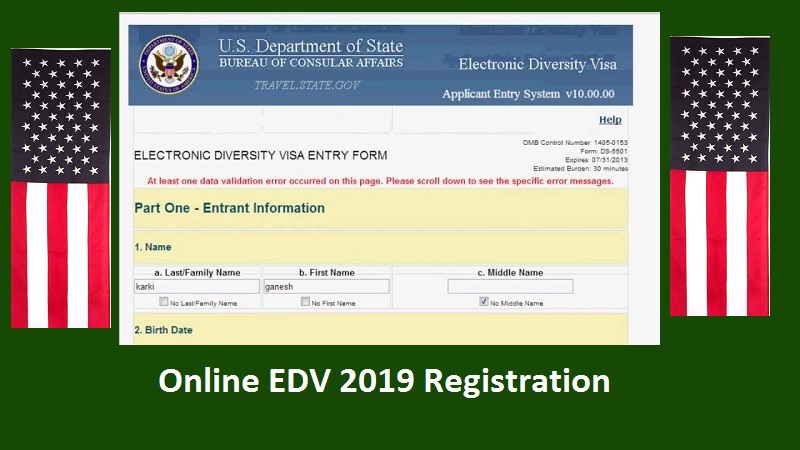 The online EDV 2019 registration is open now. Here is the online edv 2019 registration form. So you can easily fill the online edv 2019 registration from this page. Last year also we have given the online dv registration from this site. There are several points to remember before filling the dv lottery form. We have several articles in gbsnote.com regarding dv lottery. So if you need more help and support to fill online dv form you can refer them.

Can I Fill dv Lottery From My Computer?
Sure you can easily fill the online dv registration form from your computer. But while filling the dv form you must check the photo size before submitting the form. Well regarding the dv photo size you have to check whether the photograph is in the given size or not. We have separate article regarding the dv photo size. How to make the correct dv size photo is well defined in that article.
Story of Successful DV Lottery Winners
There are many dv lottery winners who have filled the application themselves. So do not hesitate to complete the procedure yourself. If you have the resource yourself no need to pay others.
When will Online EDV 2019 Registration Starts?
According to the notice given by American embassy Kathmandu the dv lottery 2019 registration begins from coming Tuesday i.e. October 3 2017. Hence the interested people can fill their online edv form from this page. The official site for the online dv application is www.dvlottery.state.gov.
Steps to Fill Online DV Form
First of all go to dvlottery.state.gov which is the official site of edv lottery.
Here you will get online form. Fill all the correct details about you and your family.
Once check the details you filled before submitting the online form.
Now submit the online dv lottery form.
A message will appear that your form is received with conformation code.
If possible print this conformation code otherwise save it in your computer.
At last but not the least we would like to suggest you to include the correct size photo. Many dv lottery forms are disqualified due to incorrect photo size.
Finally we would like to express our best wishes for your selection in the upcoming dv lottery 2019. May the god secure your journey to USA!
Best of Luck to you all in this dv lottery selection procedure.