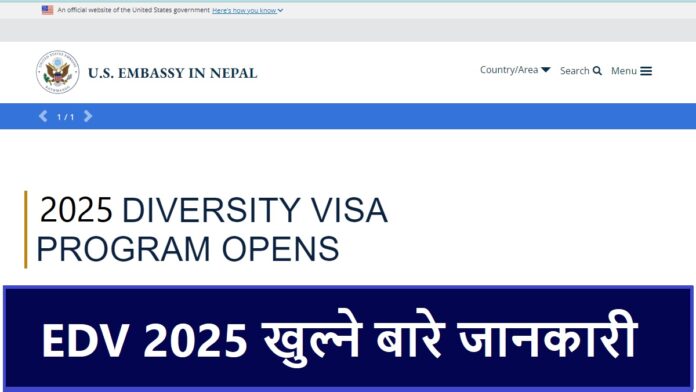 The state government has made new provision in DV Lottery. According to new provision the applicant's academic qualification is secondary education exam SEE only.
Diversity visa lottery online application date for 2025 is approaching close. Hence if you are willing to submit the online dv lottery application form then you must know these new rules. If you are failure to meet the minimum requirements then your application form will be rejected from random lottery draw.
New Provision in DV Lottery
US government is going to implement the new rules in diversity visa lottery. Beside the existing rule the applicants must fulfill the fresh requirements for EDV 2025. DV lottery is an attractive program of state government. It is computer based random selection. All the applicants of dv lottery are selected by computer programming hence there is no role of human being.
How to Fill DV Lottery Online Form
DV program strictly suggest all the diversity visa lottery applicants not to take help from the agent of consultancy to submit online dv lottery form. If in case you took such assistance then never share the confirmation number. Confirmation number is a secret number for each individual to check the EDV result. So, keep it safe with yourself.
EDV Application Steps
Just follow these steps to submit the online dv lottery application form.
Go to dvprogram.state.gov
It is the official page of dv program.
There you will find the Entrant Application button
Tap on this button to get the online application form
Now start to complete the online form
Give all the family details according to your official documents like citizenship and passport.
Finally check the details and submit it.
DV Photo Rules
The photograph in dv lottery must be recently taken. It must not be more than six months old. Similarly, the dv photo must be in 600 by 600 pixels size. You can not use hat or spectacles in the dv photo. More details about the dv lottery photo size are available at gbsnote.com.
DV Lottery History
The history of dv lottery is not long for Nepal. In the early decades of 90 the American government has started diversity visa lottery. In those days the applicants have to send the hand written application form with photo via mail.
Nearly after a decade the dv lottery application became computer printed. That is the applicant has to fill the downloaded form and fill it. The form thus filled is supposed to send USA in the address of dv lottery via mail.
But now time has changed. All the dv lottery matters are in online mode. Therefore, the applicants must have internet facility to submit the online EDV application form.
Finally, we would like to express our best wishes to all the interested individuals for their upcoming dv lottery.