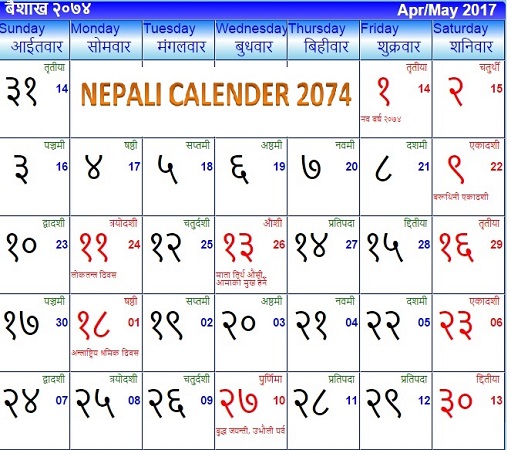 Nepali Calendar is called Bikram Sambat calendar in Nepal. The current Nepali Year is 2073 BS. Here we are going to present Nepali calendar 2074. It is for next year. Nepali Calendar is approximately 56 years and 8 and months ahead of the English Calendar known as Gregorian calendar or AD. Similarly, this Calendar  is also called as Nepali Patro in Nepal.
Nepali Calendar 2074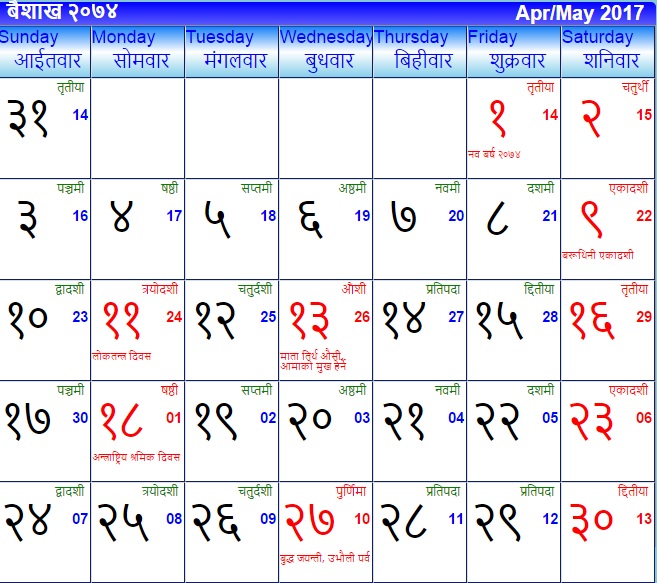 Here we include all the details of Nepali Calendar 2074 B.S.  New Nepali year begins from 1st of Baishak, which generally falls on middle of April. Similarly the new fiscal year of Nepal government also begins from the first of Baishak every year.
The new session of schools in Nepal begins from first Baishak of Nepali Calendar. Due to globalization many Nepali people are living in different parts of the world. These people also want to celebrate many Nepali feast and festival according to Nepali Patro. So this calendar will be helpful to all Nepali people scattered around the world.
Dashain and Tihar Festival 2074
Dashain and Tihar are the most important festival of Nepali people. Almost all Nepali people celebrate this festival in their community. Tihar is the festival of light and color. Everyone enjoys these festivals. Schools and colleges remains closed for one month during Dashain and Tihar.

According to Nepali calendar 2074 the main day that is Tika of Dashain is on 14th Ashoj 2074. Similarly Tihar is on 4th Kartik 2074. This year both Dashain and Tihar are falling so early in comparison to other years. The monsoon may go up to the end of Ashoj. Hence this 2074 Dashain may be muddy Dashain.
Official Holidays Given by Department of Information
The department of information declares the public holidays of a year. It is the authorized body for the announcement of official public holiday in Nepal. As soon as the department of information publishes the list of public holidays we will be updating it in this article.
Read More,