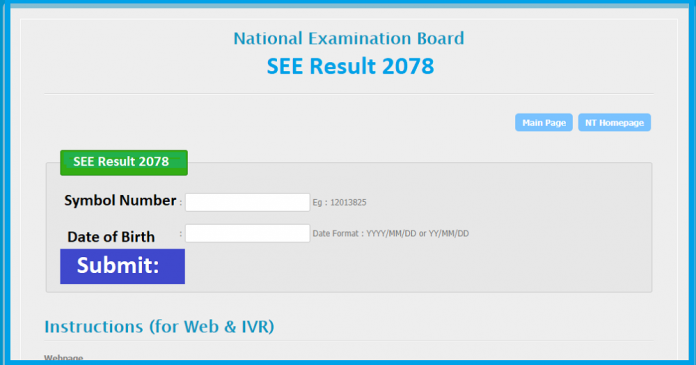 The office of the controller of examination has published Nepal SEE Result 2078. So, students can get their result with grade sheet from this page.
Well you can get the result by using SMS and IVR service. But these methods do not provide the grade sheet. Students are eager to look their grade sheet. Hence follow these steps to get the online SEE grade sheet.
it is the official page of Nepal Telecom. Generally, the server of NTC will not be down. Therefore, by using the exam symbol number and date of birth you can get the online grade sheet of SEE Exam 2078.
First of all, log in to the above official page.
Now you will see one dialogue box to enter the exam roll number and date of birth.
Fill the details carefully
Now submit the details for the online result with grade sheet.
Some other Nepal government pages for SEE Result
www.see.gov.np
www.soce.gov.np
www.moe.gov.np
Nepal SEE Result 2078
On the result day the official websites generally do not function due to high traffic. Hence in such condition you can get the result from this page. GbsNote has been working for the SEE result for the last 10 years.
SEE Result via SMS
The mobile phone user can get the secondary education examination SEE result via SMS. So, for this you have to follow these steps.
Go to new message in your message box.
Type SEE give space and type the exam roll number i.e. exam symbol number
Now send the message to 1600
Both NTC and NCell users can use the same method for the online SEE Result 2078.
SEE Result by IVR Method
IVR i.e. interactive voice response service also gives the SEE result. This is an automated service in the telephone service. The computer based recorded voice leads you to the result.
Dial 1601 from any NTC phone.
Follow the instruction given over there.
Finally, you will get the result.
But this will not give you the grade sheet.
So get the grade sheet you have to go to the official page of SEE result as mentioned above.
Beside this the National Examination Board Nepal sell the result data to the private companies and websites. The detail of this private sector comes just before the result day. Hence as soon as the board publish the list we will make it available here.