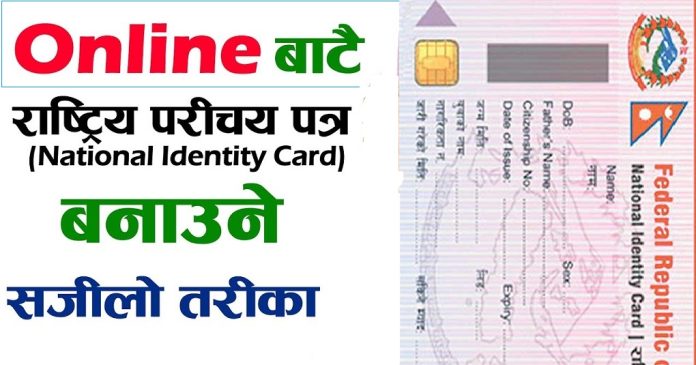 Nepal National ID is multipurpose identity card. Here you can fill the Nepal National ID Online Form.
You can submit the online application for National Identity Card. Choose your appropriate office for the further processing of the Nepal ID card. It carries many information of the individual. Hence government is planning to provide this digital card for all the eligible citizens.
How to Fill Nepal National ID Online Form?
Well follow these steps to submit the online application of the Rastriya Parichaya Patra Nepal.
First of all, go to the official page of National ID and civil registration.
The official site is https://donidcr.gov.np/
Now in this page choose `National ID online application dialogue box.
Tap on it now you will reach to the next page.
This page looks like as follow. It is pre-enrollment online application form. When you visit the district administration office or elika administration office it will make easy to get the ID card.

In this page choose the individual log in option.
Now you have to give your mobile number.
When you submit the mobile number you will receive an OPT number to verify your mobile number.
Enter this OTP in the given space.
Now you will reach to the main application form.
Complete the form properly.
Save this detail.
You will now get 13 digits' confirmation number keep this number safe.
Finally print the online form and take it to the stated office for the photography.
Components of the online ID form
In this form you have to provide the name and address of the main applicant. Similarly, you have to give both permanent of and temporary address as well. Give your father's details. Provide the name and address of your mother.
Nepal National Identity Card
While submitting the details check all the details carefully. Once you have to submit it you cannot correct it again. Hence whiling giving the date of birth and citizenship number etc. always pay attention.
Urgent Notice of Department of National ID and Civil Registration
The offline applicant's national ID card number you can now get in your mobile. The copy of this notice is in our previous article. Hence if you have submitted your National ID offline form go through this notice.
Check your online voter ID card from the official page of Nepal election commission. You can follow the above link to reach the official page.
Beside this if you have any question or queries about the Nepal official ID and voters ID contact us.