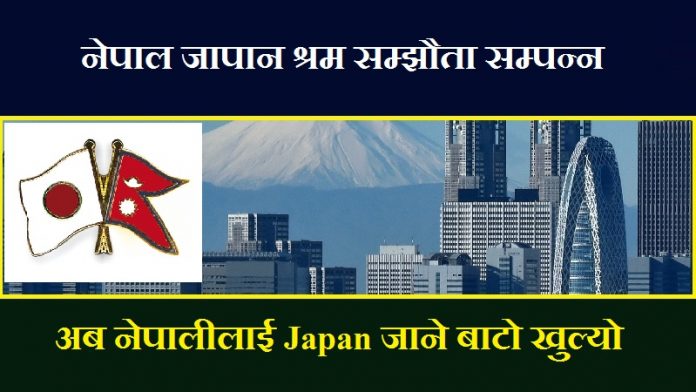 Nepal Japan Workers MOC signed today. As already announced by the Japan government it will take three hundred fifty thousand within five years.
Nepal Japan Works MOC
The agreement between two countries will make it easy for Nepalese workers to live and work Japan. The supply of Nepalese workers to Japan starts from coming April.

Nepal Japan Labor Supply Mutual Agreement
The for secretary of labor employment and social security Ministry Ram Prasad Ghimire sing on MOC today. This agreement will make the Nepalese workers easy to work in Japan.
Blue Color Jobs in Japan
According to the recent MOC of Nepal and Japan the Nepalese workers employment in Japan starts from April 2019. The details about it you can read in our previous articles.
Hence instead of repeating the same content over here we suggest you to go to our previous articles.
Nepal Japan Workers MOC updates will come in this page.
Basically the applicants for Japan working visa must have passed the JLPT language test. So for this you have to get the knowledge of Japanese language. We have many articles about JLPT exam.
Be in touch with us for Nepal Japan Workers MOC.
Till the date it is not finalized about the number of worker. However Japan will take nearly three hundred fifty thousand workers from different nine countries.
The exact number of workers will come in recent future. At the same time will notify you all as soon as Nepal government publishes it.
It is quite similar to EPS Korea job. As thousands of Nepalese youths are working in Korea under EPS TOPIK in the same way Nepalese youth will shift to Japan.
At the moment we would like to inform you all that we notify all the updates about it in the future. Hence if you have any question about Japan working visa contact us.