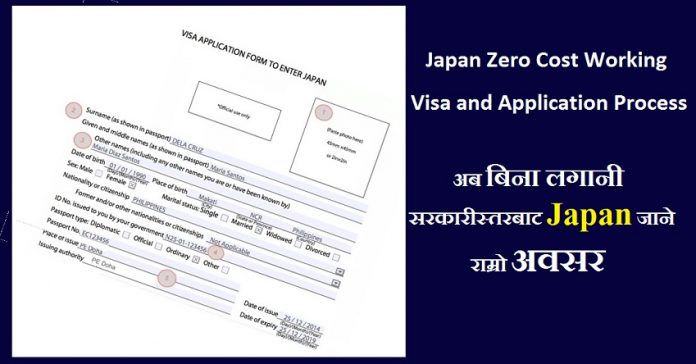 Here is Japan Zero Cost Working Visa and Application Process. According to the news Japan is going to take more than three hundred thousand workers from nine different countries.
Japan Zero Cost Working Visa and Application Process
According to the modality of Japan working visa it is zero cost visa. So we hereby would like to suggest all the interested candidates not to go after agents.

We are getting many reports about the fraud activities in this Japan working visa scheme. Hence be aware of such cheaters.
There might be many fake people telling themselves as agents to take people to Japan. Till the data Nepal government has not appointed any official agent for this purpose.
As mentioned above there is no any agent for the process of Japan working visa. So we suggest not believing on fake agents. It is totally the government issues. Therefore the government will manage everything about it.
As soon as Nepal government signs on memorandum of understanding in this issue the process of going Japan in blue color job will starts.
Japan is going to take foreign workers in fourteen different sectors. We have separate articles about it. So if you want to know more about blue color job in Japan please check our previous articles.
Online Language Test for JLPT
You have to pass the language test to work Japan. Hence here we provide platform for online learning class. So if you also want to learn Japanese Language joins us. We have online Japanese language learning class.
Online Application Form for Working Visa
There are two types of visa for foreign workers according to the new bill. One is for skilled workers and the next for semi-skilled workers.
The skilled workers can take their extended family to Japan. But the semi-skilled workers will not allow taking their family members.
Hence if you have any question about Japan Zero Cost Working Visa and Application Process please contact us. Our expert team will try to solve your problem as soon as possible.